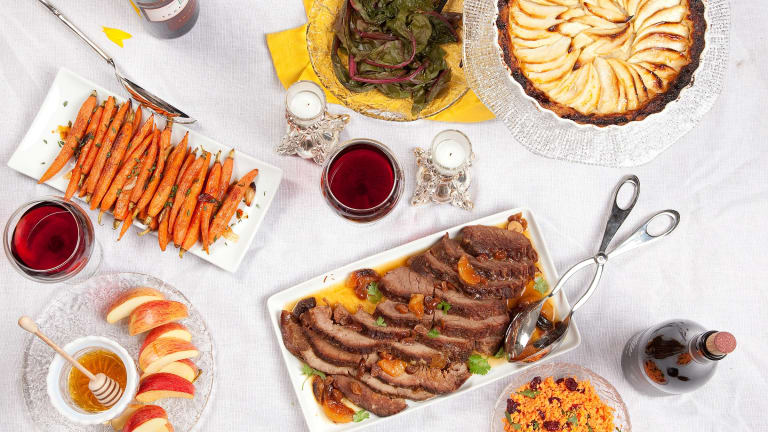 Traditional Rosh Hashanah Menu with Make Ahead Tips
Traditional Jewish food is always a great way to cook for Rosh Hashanah.  Here is a full menu perfect for the season. 
This is my favorite challah recipe, one that I learned from Chasidic Jews in Brooklyn and Jerusalem.  For the New Year, I use honey in place of the sugar in the traditional recipe. 
Make Ahead: Tightly wrap dough in plastic wrap and place dough in freezer bag. Defrost in fridge a day before you would like to use.  You can also freeze fresh challah, defrost and place in the oven. 
This recipe gives you the traditional gefilte fish taste with a smoother, more elegant, texture – plus, it won't make your kitchen smell like fish for days!
I love the combination of sweet and savory in this dish. Make sure you do not trim the fat off the brisket before you cook it.  That layer is what will keep the meat moist and flavorful.
Make Ahead: This roast freezes really well and stays fresh in the fridge for a few days.
SWEET POTATO AND DRIED CRANBERRY SALAD
This autumnal sweet potato salad is a big crowd pleaser.  It's beautiful and people are always surprised to taste raw sweet potato. Why not swap out your traditional sweet potato tsimmes for this variation?
Make Ahead: Prepare this salad and dressing up to two days before your meal. 
TUNISIAN CARROTS WITH CARAWAY & CUMIN     
This is a Tunisian twist on a Moroccan rosh hashanah salad that I love. The round carrots remind me of golden coins, part of the wish in Sephardic Rosh Hashanah seders for wealth in the new year.

Eaten all year round, this dish is often prepared on rosh hashanah for the sephardic seder, when Moroccan Jews recite a series of blessings over squash, leeks, dates, pomegranates, black-eyed peas, apples, the head of a fish or a lamb, and swiss chard and beet greens. 
MORE: Sephardic Simanim
My son, David, and I love to make this dessert together in the fall.  Sometimes we substitute firm, tiny Italian plums for the apples.
Make Ahead: Prepare pie dough in advance and store in fridge for a few days or freeze for a few months. 
Article courtesy of JOY of KOSHER with Jamie Geller magazine (Fall 2012) - Subscribe Now