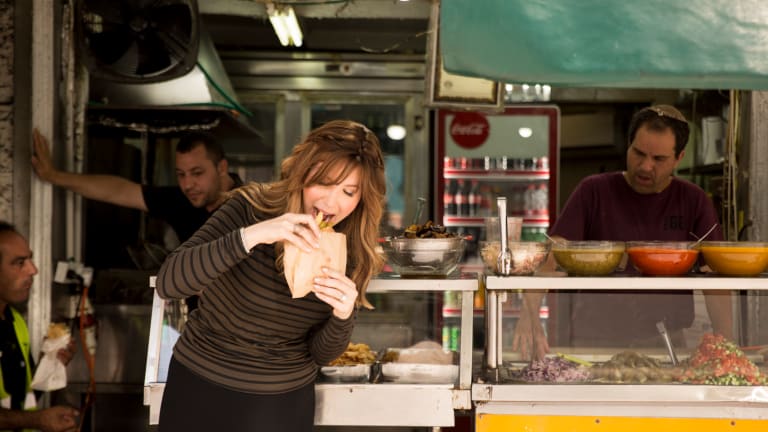 Ultimate Guide to Machane Yehuda Market - The Jerusalem Shuk
Beyond seasonal fruits and vegetables, prime meat and poultry, and fresh fish, Jerusalem's Machaneh Yehuda has come a long way as a tourist destination and foodie haven.
Machaneh Yehuda, the largest open-air market in Jerusalem, was founded during the Ottoman period. It was developed by local merchants who brought produce to sell in a central location. It was a ramshackle mess for many years, but still, it grew in popularity, adding more merchants and attracting more customers.
For many years Machaneh Yehudah was the heart of the city and where most Jerusalemites would find their favorite groceries, but like much of Jerusalem's decaying infrastructure, it needed a lot of improvements.
Finally, in more recent years major renovations were made, including repaving roads and a new roof over many of the open-air areas. There were also more efforts to bring in cafes and boutiques and bars, transforming the shuk into a night-time venue as well. This effort has paid off, and today Machaneh Yehuda is a bustling market and the center of innovative food in Jerusalem.
It is the perfect representation of the old and new in Israel. Many stalls are still owned by descendants of the original owners, while creative entrepreneurs with new ideas and an innovative approach to trendy foods are popping up regularly to rejuvenate and invigorate the old market.
A visit to Machaneh Yehuda is a transformative experience. Wizened faces yelling out produce and prices, tourists in shorts and tank tops jostling with black-frocked Hasidim for fresh-baked bread and rugelach.
It is a kosher foodie's dream come true, with food from cuisines all over the world represented among over 250 vendors. You can find almost anything in the market, grilled meats, falafel, fresh-roasted coffees, savory spices, fresh ground tahini, and every flavor of halva you can imagine. You will also see gourmet cheese from all over the world, beer, candy, and even clothes and jewelry.
The Best Places to Eat in Machaneh Yehudah, Jerusalem's Shuk
The market is made up of two main streets that extend the length of the shuk, Machane Yehuda Street and Eitz HaChaim Street, which go from Agripas to Yaffo. The two main parallel streets are intersected by a bunch of smaller streets that make up the bulk of the market. Then there are also two smaller sections known as the Iraqi market and the Gruzini or Georgian Market, and some nearby surrounding areas boasting some highly recommended restaurants that consider themselves part of the market.
When should you go?
Most days of the week, it is best to show up early in the morning if you want to experience the market a bit quieter and have the chance to speak to some of the vendors. By noon things start to really pick up. However, on Fridays, even early mornings can be crowded.
In the evening, you can watch the fruit and vegetable markets close up, replaced by bars and pop-up restaurants. Tables and stools appear throughout the market, and the music gets loud. For the best nightlife, show up on Thursday night when everyone under the age of 40 seems to descend on the market.
With its ever-changing hot spots, it's hard to keep up with it all, but we will try our best with a guide to all the best kosher foods, eateries, and bars. Please call ahead to make sure the place you want to go is still open and has the appropriate level of kosher supervision for your crowd.
BREAKFAST
Coffee and Bakeries
In the last few years, the third wave of coffee culture has finally hit Israel, and Machaneh Yehudah is a great destination for caffeine-starved. The first one to open right in the center of the market and roast their own coffee was Roasters, boasting perfectly made cappuccinos to help Israelis move beyond Nescafe. A few years ago a new Oleh from South Africa opened Power Works Coffee on Agripas right outside the shuk, with great coffee and a fun vibe. Try their Frio when you need something cold and refreshing, it's their version of a frappuccino, but for serious coffee lovers. You can also try You Need Coffee, on the other side of the shuk on Yaffo. What they lack in ambiance they make up for with a huge variety of freshly roasted coffee beans. Shuk Cafe is right in the center of the market and also has a great variety of diverse coffees to choose from.
Now that you have your coffee, grab a Borek from Giveret Borek. The Turkish cousin to the more familiar Boureka, this version is bigger, flatter, and served with a hard-boiled egg and sauces for the perfect breakfast.
If you are looking for more of a sit-down experience, don't miss Cafe Lyon located on Jaffa street, known for their amazing brunch and incredible baked goods.
Other favorite morning spots are the Etrog Man, where you can get all kinds of healthy concoctions made from all-natural ingredients, including fresh kombucha and real etrog juice.
Enjoy fresh Baked Iraqi bread from the Hava brothers, from their traditional Iraqi pocketless pitas to Jerusalem bagels made right on the spot; their bread is always hot and fresh. Sometimes when it's not too busy, they offer sabich, a delicious Mediterranean breakfast option consisting of fried eggplant and eggs.
For a sweet way to end your breakfast tour, don't miss Marzipan Bakery for an ooey-gooey, piping hot chocolate rugelach. If you're looking for something else, try a fresh hot bun at Urbun, they go way beyond cinnamon.
Lunch
For lunch, the biggest decision you will need to make today is whether to go meat or dairy. While there are more options if you choose meat, many places now offer vegetarian meat substitutes so you can find something for everyone.
Dairy/Pareve
With falafel available nearly everywhere in Israel, you can be sure to find several mouthwatering options here at the shuk. But these days people don't come to Machane Yehuda for the falafel, vegetarians, vegans and the veggie-friendly flock to the shuk for sabich, overflowing with flavorful bright orange amba sauce, which you can enjoy at Aricha Sabich.
They also come for the Yemenite breads/pastries at the Jachnun Bar. Jachnun is a semi-sweet slow-cooked, Yemenite pastry often eaten on Shabbat day with eggs and a tomato dip, but here you can get either Jachnun or Malawach (a pan-fried Yemenite pastry) loaded with salads and spreads to your heart's desire.
Other famous dairy spots include Pasta Basta where you can choose your favorite pasta and your choice of sauce, the perfect stamina-building carb load on a busy day of shopping. At Fish & Chips, you can't go wrong with classic British pub-grub adapted for the Israeli palate with sesame seeds. You can find the best pizza dough at Craft Pizza, where it takes three days (!) to make their special sourdough crust. You can also try Haagas 1, a cozy vegetarian spot in the center of the market for delicious hummus and all the classic Middle Eastern foods you are craving.  One more that is especially friendly for the vegans and vegetarians is Manou Bashouk, where you can find traditional Lebanese food all made without meat so no one will feel left out. 
Meat
For all you meat lovers who can't quite wrap your head around all the sweet cheese kanafeh overwhelming the shuk, you can score a personal pan of savory kanafeh for an "only in Israel" experience at Knaf. Watch the talented team cook the kadaif (shredded filo) which is stuffed with your choice of pulled meat or a vegan version. Then it is served with your choice of sauces from sweet to savory to spicy. The sauces make the dish.
For a nice authentic sit-down experience, try Azura, behind the Iraqi shuk, where you will see pots of homestyle Iraqi food simmering away. Make sure to try their Kubbeh soup -- semolina dumplings filled with meat in a tangy lemony broth.
Just behind Azura in the Iraqi shuk between the fruit and vegetable stands you fill find Argento Empanadas, where you can watch amazing things happening. In this tiny space with a small oven, you can choose one of a few kinds of empanadas or sandwiches, but they also have platters and the most incredible fresh fried potato chips you can find in Israel.
Speaking of potatoes, another fun place is Dwiny, they stuff all sorts of food in a pita from Moroccan spicy fish to fried cauliflower to osso bucco. Try their tasting to sample a little bit of everything, just note there are no forks!  Even for these incredible Three Stage Fries which is a mix of potatoes, onion rings, aioli, parsley, tomato and chili pepper, messy, but it's all part of the fun.
Ishtabach should also be on your list for their now famous Kurdish-Syrian meat or veg filled pastries called Shamburak served with an assortment of dips and spreads that go perfectly together.
Don't miss Arais another hot trend all around the country is this meat filled pita grilled to perfection, one of the best can be found just outside the market on Agripas, they even have a vegan version.
For a larger sit down option there is Hatzot, known for introducing Jerusalem mixed grill to Israel, but also for their fresh grilled meats. It can be hard at times to get a seat, but they also have a take out window.
Snacks and Noshes
Many people come to the shuk just to bring home some edible souvenirs and there are plenty. The best part is you can taste everything before you buy, that is not only allowed but encouraged. The only caveat is that you will want to buy everything.
Some of the most popular goods to buy and bring back to the US include spices, dried fruits, nuts, and teas and there are many places to choose from. We love Pitzuchei Dani, the third generation family run business with some really great products. They make their candied nuts with silan instead of sugar which is not only healthier but tastier. They make several blends that you mix with your rice for an incredible easy side dish as well as their own Israeli version of everything seasoning. The brothers will let you taste everything, share their mother's recipes, but won't pressure you to over buy.
If you're a cheese lover you can find the world's best selection of kosher cheese at  Tzidkiyahu deli, which is right off Agripas on Etz HaChaim Street and right across from their meat deli where you can also find prepared foods stall, the perfect place to pick up ready to eat food for Shabbat or holidays in Jerusalem.  They have an array of salatim and tons of traditional specialities from kibbeh and cigars to stuffed vegetables to specialty rice. 
Finally, you can't miss Halva Kingdom, every time you pass one of their stores (and there are several) you will see them handing out samples of their famous halva. They have over 100 flavors of this traditional vegan and gluten free dessert, you will definitely find a favorite. But don't miss their main location in the center of the shuk where you can see and taste fresh tahini being stone ground.  At the front you can see all the flavors of tahini and in the back you can actually see the stones turning and grinding the sesame seeds.  So whether you love sweet halva or want to enjoy a sweet or savory tahini you can find taste and buy it all. 
Desserts
Now that you ate and snacked to your hearts content you might want to know a bit about dessert. Right now the most popular dessert in the shuk appears to be kanafeh and baklava. There are too many kanafeh places to choose from, finding a favorite is a whole other article, but it is a fun treat that comes to you hot and fresh off the pan.
Baklava is better to take home, the only issue is how to choose amongst over 70 varieties.
In addition to the traditional Middle Eastern desserts you can find delicious gourmet ice cream at Mousseline and choose your own ice cream sandwiches at Cookie Cream, particularly perfect in the heat of summer.
The latest dessert in town is called The Kiorthosh, there are at least 2 places offering this hollowed out pastry, otherwise known as a Hungarian chimney cake. In addition to enjoying these pastries on their own, you can get yours filled with your choice of ice cream and toppings. Another decadent dessert to add to your list.
Dinner and Drinks
Amongst the hustle and bustle and tiny holes in the wall are a few sit down restaurants for both dinner and drinks (many are open for lunch too). A favorite amongst tourists, especially Americans is Crave, they call themselves gourmet street food, but they are more like gourmet Jewish deli food and one of their signature dishes is the kosher Reuben, complete with homemade vegan cheese. Hatch is another great choice right in the center of it all, they have their own craft made beers, a few kinds of chicken wings, homemade cured meats and crazy dairy free mac and cheese balls which also happen to vegan. For a fun L'chaim try their frozen wine slushies!
For a slightly higher price range and a bit more elegance and space check out Jacko's Street, on Agripas. The market's first chef restaurant has it all, delicious food, ambiance and decor, a full cocktail menu and wine list. Just a few blocks away is Valero, another chef restaurant where you can find a curated menu of classic dishes with a twist of Jerusalem's current trends. For something a bit more traditional, but with a ton of ambiance you can find Hamotzi on Jaffa street for authentic Algerian food. During the day you can watch from the street through an open window as a woman hand rolls Moroccan pastries and the inside is spacious with large platters of delicacies calling you in.
While we love a nice sit down restaurant, if you want to really experience the shuk at night you will want to stay in the center of the market and enjoy the vibe. You will see the bars open up, some with live music, and spread out their tables and chairs along the pathway. Where during the day you saw piles of fresh fruits, you now see people sitting eating and drinking the night away.
You can find food and drink at Beer Bazaar, they have a small space in the shuk but at night they also have tables all along the inside of the market. They have a larger space a few blocks away on Yaffo called Beer Bazaar Reshut HaShidur. You can find more than 100 craft beers from all around Israel and enjoy spiced popcorn with whichever beer you choose. The food is typical bar food with hot dogs and burgers and the like. 
For a more local experience where all the students go and a bit of a more rowdy atmosphere, head over to Tap & Tail on Etz Haim Street. One of the newer bars on the scene they have a creative cocktail menu featuring some of Israel's speciality liquors like arak and Tubi60.
Across from Tap & Tail you might be surprised to see a few people sitting around a booth eating cholent and talking to a bearded rabbi. There you will find Hamakom, something you will only find in Israel. Rabbi Yechezkel Shalom opened a small booth amongst the bars and cafes to give out free cholent and snacks to everyone he can. His goal is to show them the excitement and joy of being Jewish in the best way he can. He is open every night except Shabbat and everything is paid for by donations.
Getting out of the middle of the market, closer to Crave you can find Hashchena, which literally means neighbor and has a nice homey, warm feeling with different kinds of seating including couches. They also have a small menu of food and offer hot wine to warm you on a cold Jerusalem night. On busy nights you will want to reserve a spot to while the night away. 
I hope you are getting excited for your next trip to Machane Yehuda, if you want to learn more and get a more personalized tour of the shuk contact one of these tour guides,  Fun Joel or Debra Tours.
NOTE: All restaurants had kosher certification at the time of writing this article, for current status please consult the restaurant.  Kosher certification standards for restaurants in Israel are complex and can change from time to time. Please consult your local Orthodox rabbi for further advice.