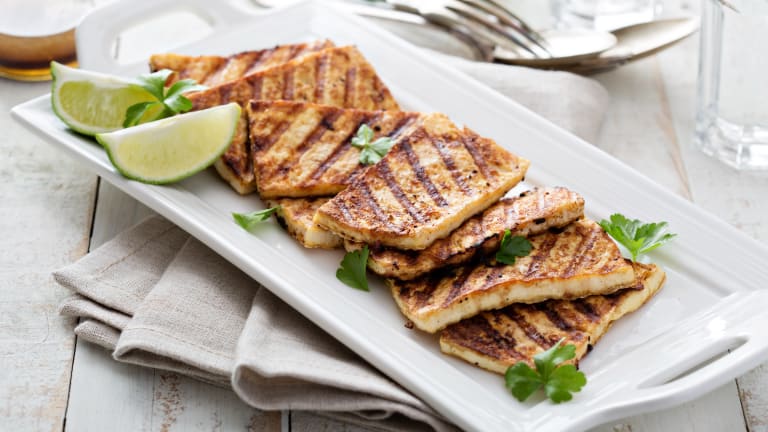 15 Vegetarian Recipes for Memorial Day
Memorial Day is coming up, and taking a cue from the trend for more vegetarian focused foods, I was inspired to find some of our best vegetarian, yet barbecue appropriate recipes perfect for this national day of remembrance.  You'll notice that every recipe carries the barbecue theme by roasting or grilling some aspect of the dish, providing those classic summer flavors with no need to serve meat.
Salad Stuffed Grilled Portobellos
Grilling vegetables is a great way to re-imagine classic summer salads.  The portobellos in the Salad Stuffed Grilled Portobellos provide a deep, rich flavor and make a great substitute for meat.  
Grilled Eggplant with Pomegranate Sauce
You'll love the bright pops of color that the Grilled Eggplant with Pomegranate Sauce brings to your table.  
Roasted Summer Vegetables with Horseradish Aioli
Keep it simple with bright and colorful grilled veg, don't forget the aioli. 
A different kind of pasta salad to fill everyone up. 
Linguini Grilled Summer Vegetable Salad
Add fresh grilled veg to linguine for a more elegant pasta meal. 
When the spices are this good the tofu is simple and delicious. 
Get your burger on a bun fix with a grilled portobello.  
Quinoa, Sweet Potato, Walnut Veggie Burgers
Or make a real veggie burger, these really stick together. 
This recipe shows how you can make a whole salad on the grill and all the flavor it will bring. 
Another way to show that good spices make all the difference. 
Mexican street corn is a perfect vegetarian grilled dish, but since it is usually made with cheese we developed a way to keep it dairy free.  Use vegan mayo to keep it vegan. 
Another salad, this one with grilled white asparagus. It just screams elegance. 
For dessert, why not take advantage of in-season fruit by throwing it on the grill and topping it with your favorite ice cream.  Choose your preferred fruit based on what's available where you live, but a few ideas include...
Grilled Nectarines with Ginger Cream
Pavlova with Grilled Pineapple