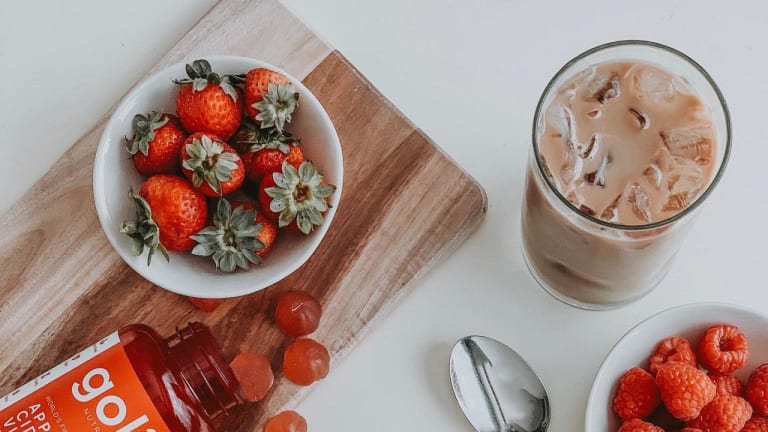 4 Reasons Why You Need Apple Cider Vinegar In Your Diet
Years ago, when my seasonal itchy throat started to reappear, I discovered apple cider vinegar as a natural treatment for relief. It actually worked.
Luckily, I had bought the kind from the health food store that had what looked like sediment on the bottom. That sediment is actually called "the mother" and it's alive! The mother is the source of the naturally occurring good bacteria, nutrients, and enzymes that have health-boosting properties.
*Get 10% off plus free worldwide shipping of Goli with coupon code JAMIEGELLER
After some research, I discovered that apple cider vinegar is a popular home remedy to treat many common ailments and offers tons of proactive health benefits.
Here are 4 things you should know about apple cider vinegar:
1. Weight loss. Studies suggest that apple cider vinegar can increase feelings of fullness and help you eat fewer calories.
2. Promotes a healthy heart. Studies show apple cider vinegar can decrease cholesterol.
3. Control blood sugar. Studies show great promise in improving insulin sensitivity and helping lower blood sugar spikes after meals.
4. Healthier skin. Apple cider vinegar has antimicrobial properties that can help improve the skin barrier and prevent infections.
After learning all about the health benefits I wanted to get more in my diet, the only problem was the taste. I could gargle to help relieve my sore throat but it is really hard to drink even a teaspoon.
Finally, there is a delicious way to take apple cider vinegar. It's Goli!
All-natural gummies that are kosher-certified (OU), vegan, gelatin-free, gluten-free, free of corn syrup or HFCS, no artificial sweeteners -- including the mother!
Goli's apple cider vinegar gummies are delicious, a good source of vitamins B9 and 12, and my favorite new supplement.
GET 10% OFF WITH MY SPECIAL GOLI COUPON CODE JUST FOR YOU: JAMIEGELLER