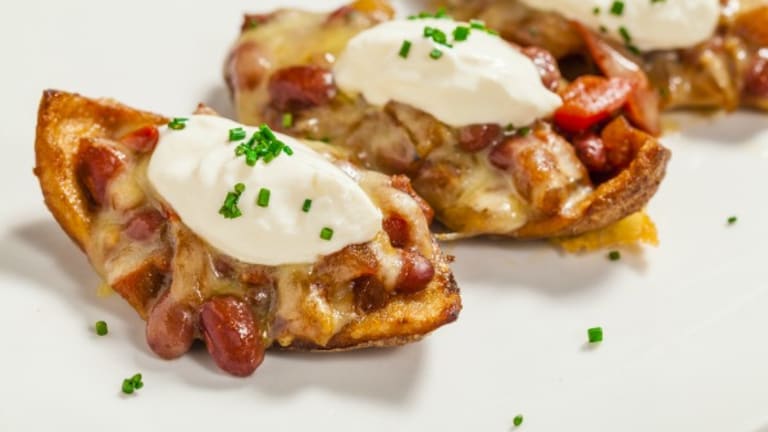 How To Set Up A Potato Bar for Dinner or a Celebration
Before we learned that my daughter was gluten intolerant I remember the countless stomachaches, the visits to the pediatrician, the numerous phone calls from school, informing me that my daughter is once again not feeling well. It took years for my daughter to be diagnosed with gluten intolerance.
It happened by chance one morning at the gym. I was exercising and this famous actress was on tv explaining her newly diagnosed health issue. As I was listening I remember thinking, she is describing my daughter, stomach as hard as a rock, always looking 3-months pregnant, constant undiagnosed stomach pains, fatigue, and more. She then went on to explain her gluten allergy. That evening when my daughter came home from high school, (yes, high school, it took us that long to recognize her condition) I told her about the show and we decided she needs to get off gluten (granted we never even heard of this before).
In the past, my daughter went off milk, she went off eggs, nothing helped, but the minute she withdrew gluten from her diet, she started feeling better. In just a short time her stomach was no longer hard. She started to look and feel amazing. Gluten was the culprit. By the time we went to the doctor to confirm, my daughter had not been on gluten for an extended time and the Gastroenterologist felt there was no need for her to go back on, just to confirm that she is allergic to gluten. Our family diet slowly changed and gluten products no longer made up the core of our meals. Sometimes it was challenging, but like most things we adjusted.
Over the years more and more products have made it even easier to be gluten-free, but still, adjustments need to be made.   Adjustments, but no sacrifices. Gluten-free no longer means you have to settle!
One of our favorite dinners became a DIY Potato Bar.  It is so good we even use this idea for celebrations with guests. 
You can start with soup when it's a special occasion. You can even offer a choice (leftovers are great so I never mind making more), such as Zucchini and Butternut Squash. 
Then set up for a full-blown baked potato bar with all the trimmings!  Do you remember those baked potatoes at the mall or in Israel at corn stand? All they do is take out a hot baked potato and fill it with your choice of veggies and sauces, so you can do the same at home. 
Sometimes potatoes get a bad rap as the 'other' starch.  But did you know that the potato is a great source of vitamins and minerals? It contains a healthy dose of iron, magnesium, potassium, fiber, vitamin C, vitamin B-6, and Niacin. Find out more about the health of potatoes. 
The most important step in making a potato bar is the potatoes, so find the best potatoes you can and bake them in the oven.  While you can always microwave them like we do in our Loaded Baked Potato for ease and speed, this is dinner and they really taste so much better when baked in the oven.  
Bake The Potatoes
Preheat oven to 400° F. Lightly spray a baking sheet with cooking spray.
Toss potatoes with oil, salt, and pepper until completely coated. Place on prepared baking sheet and bake until fork-tender, about 60 minutes.  
For variety, if desired make some Salt Baked Sweet Potatoes too.  
For the DIY Bar
Prepare sauces and toppings, go all out or just stick to a few favorites such as:
Butter
Sauteed onions
Sauteed mushrooms
Roasted broccoli
Shredded cheddar cheese
Sour cream
Chives or green onion, chopped
Tuna
Baked beans
Feta cheese
Cream of mushroom sauce
Creamed spinach
Salsa
Get inspired by more fillings in our Stuffed Baked Potatoes.
When it's time to eat, give everyone their own potato that is sliced open. Each person can load on the toppings and mix it up in their potato. 
All delicious and all gluten-free. Bring on the party, spuds and all!