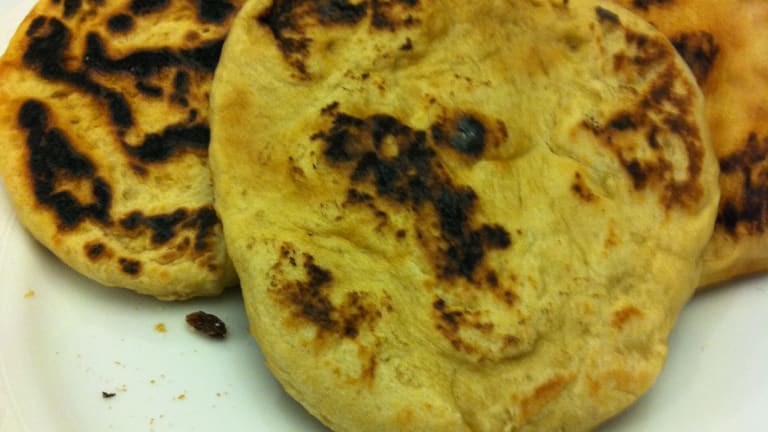 Naan (Indian Bread)
I cooked these on the stove in a small cast iron pan. They brown very quickly and this is why I felt the need to finish them in the oven.
Duration

Cook Time

Prep Time

6-8 Servings

Servings
Ingredients
1 cup white wheat bread flour
2 cup bread flour
1/4 cup soy yogurt or soy milk
1/4 cup warm water
1/2 teaspoon sugar
1/2 teaspoon yeast
1/2 teaspoon salt
Preparation
1. Mix the yeast, sugar and warm water and let it stand 5-10 min to proof the yeast.
2. Mix the dry ingredients together in a stand mixer.
3. Make a well in the middle and pour in the yeast, the yogurt or soy milk, and gradually add more water while the mixer is running. You will probably need between 1/2 and 2/3 c water. Add it slowly and allow the mlxer to incorporate it before adding more. The final dough will be soft, but not sticky.
4. Put the dough into an oiled bowl and leave it covred with a cloth for at least 3 hours.
5. When you're ready, punch the dough down and cut into 6-8 pieces. Roll each into a circle just before you're ready to cook it.
6. Cook for 1-3 minutes on each side in a hot griddle or pan on the highest setting. As each is done with brown spots, place it on a cookie sheet and bake in a 350 oven for about 15 minutes to finish off.
.