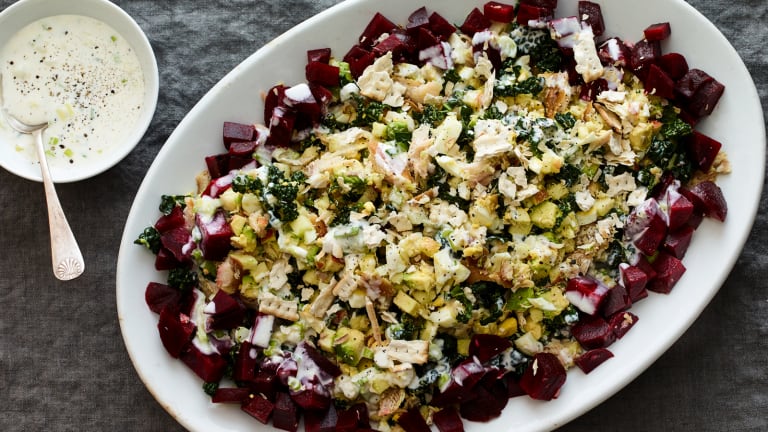 Phenomenal Kosher Fish Salads
I rarely mind cooking, in fact I love to cook, whether it's wintery cold outside or blazingly hot. But when the temperature climbs above 80 degrees, what I make for dinner changes. It has to be easy on me and easy on the digestion.
I'm fortunate that my husband loves or pretends to love or at least accepts without complaint (most of the time) whatever I cook for him. When summer comes around and I serve salad a few times a week, he eats it up as happily as he feasts on stew in January.
Now, I could get along with lettuce, tomato and some cooked veggies and chick peas and avocado and the like, with a hard roll and butter or some toasted, olive-oil brushed, zatar-sprinkled pita. But my husband needs something more substantial. Meat, chicken or fish. And since I make a lot of fish it's frequently fish salad he gets. Sometimes it's a from-scratch salad, but sometimes I plan ahead, buy more fish than I need for dinner, and use what's left for salad the next night.
Fish salads have several advantages for us. It's not just that they're healthy, filling and delicious, but also because we like cheese, which I can use to give the salads an additional flavor element. With the variety of fish we like (Arctic char, salmon, tuna, cod, halibut) and the different cheeses out there (goat, blue, feta, and so on) I can mix and match all summer and never combine the same ingredients twice.
That, plus the changes I make to the dressing, creates so much variety that dinner never becomes boring, same-old, same-old.
I don't care for bottled dressings because they're usually too salty and too filled with ingredients I don't want us to eat, so I make my own, which takes about 4-5 minutes, tops. Most of the time the dressing consists of olive oil and some kind of wine vinegar (with fish it's often white wine vinegar) but then I change things and use corn oil and rice vinegar or canola oil and apple cider vinegar, depending on what fish I'm including. Or I nix the vinegar altogether and use fresh lemon juice instead and maybe add other flavors too: a little bit of orange juice for a salad that has sweetish ingredients like dried cranberries and salmon or Dijon mustard to a more robust salad I might make with mackerel or bluefish.
Fresh herbs are so readily available these days (in the summer I grow my own basil, mint and oregano) and I find these very useful to keep the dinner flavors exciting. Tuna with thyme, tarragon or oregano. Salmon with dill, mint or coriander. You get the point.
If you think fish salads won't be substantial enough for your family, consider this: you can mix in yesterday's leftover potatoes or pasta. Add thawed frozen lima beans or canned kidney beans. Corn kernels (even better from leftover grilled corn). Leftover broccoli, asparagus, cooked carrots or parsnips. What better way to clean up the fridge of leftovers and serve vegetables too?
It's true, sometimes I notice that my husband eats every part of a salad except for the Swiss chard or fennel, which aren't his favorites. Still, fish salad is a good way to serve a one-dish dinner that's easy, healthy, tasty and economically savvy too.
Enjoy these recipes: