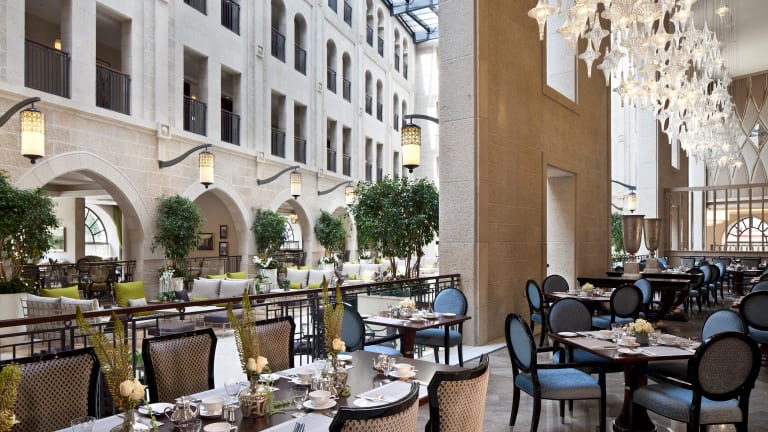 Kashrut Standards at the Waldorf Astoria Jerusalem
"Hotel owners, a General Manager, and management have changed over the years, but the Glatt level Hashgacha is still valid", says hotel Rabbi, Eliashiv Nafcha
5 years since the official opening ceremony of the Waldorf Astoria Jerusalem, the most trusted hotel veteran, 40-year-old Rabbi Eliashiv Nafcha, is in charge of one of the most important tasks – the kashrut in the kitchens.
Here is a short interview with Rabbi Eliashiv Nafcha, a Mashgiach you can trust.
Tell us a little bit about yourself.
I was born in Rehovot Israel to an ultra-orthodox family. My father was a commissioner in the Ministry of Education and very close to well respected Charedi authorities, like the Abu Hatzera family. Loving the Torah and a desire to be a "Gadol Batorah" is one of the virtues I received from my parents, since childhood. I studied in "Or Israel" Yeshiva followed by Jerusalem's Bait V'gan "Kol Torah" Yeshiva with respected Rabbis like Rabbi Yehuda Schlesinger and Rabbi Shmuel Deutsch. I married Hadassah Falkivich from a respected Hasidic family from Romema Jerusalem and we have 7 children.
How did you get into the hotel industry?
When I graduated Yeshiva, the Jerusalem Rabbinical council approached me and urged me to be involved in the new "Novotel" hotel, just opened in the city. I worked there for 8 years as the hotel's Mashgiach. When the Waldorf Astoria was being built I dreamt of working in this luxury hotel. When it opened, I guess the council wanted the most qualified and trusted man for the job, and so I accepted the challenge.
How are the standards of Kashrut being set at the hotel?
When I initially met the hotel management and owners, I set the appropriate Mehadrin standards. I am in charge of the Hashgaha with my 7 mashgichim. My standards are very strict. We are present in the hotel kitchens from 4 a.m. until all kitchens are closed, after midnight. I am confident that Kashrut is strictly kept with devotion and hard work.
Give us examples of how strict the Hashgacha is in the Waldorf Astoria Jerusalem.
Since the hotel opened its doors until this very day the Hashgacha is of Glatt Mehadrin quality. The meat we use is supervised by Badatz Rubin, Badatz Kehilot, and Badatz Mehadrin Yerushalayim. No food and beverages are accepted in the hotel without my team's authority. We have a separate room designated for washing all vegetables with a special liquid to ensure all is within Glatt standards. We keep Shabbos and Yom Tov to Mehadrin standards, food for the relevant meals is stored in heating ovens and locked by my team. We do not heat food during Shabbos and Yom Tov.
Are these policies still enforced today?
Absolutely. These standards are upheld. Hotel owners, a General Manager, and management have changed over the years, but this Glatt level Hashgacha is still valid and will continue for years to come.
What has been the guest feedback?
Just before this interview, I met a returning guest who thanked me for the meticulous level and high standard of supervision in the hotel and congratulated my team and myself. "There is no hotel like the Waldorf Astoria Jerusalem with such a combination of luxury and glatt quality supervision. It is our home in Israel", he just said to me. There is no better satisfaction than this.
Rabbi Eliashiv Nafcha is available on his cellphone for any queries: +972-549509068