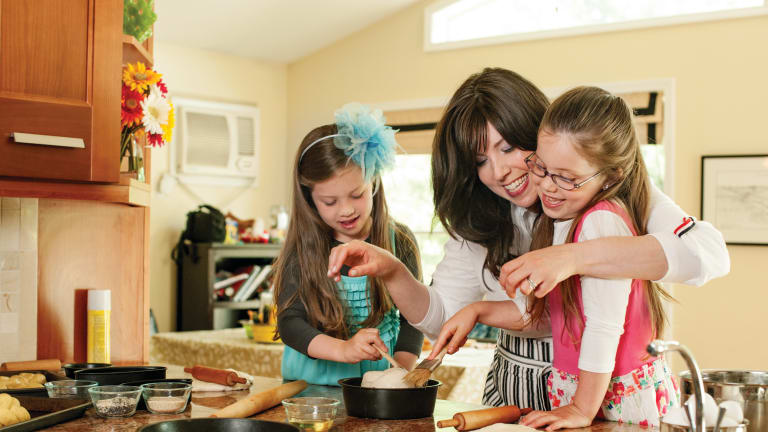 Cooking with Kids: A Complete Guide + 5 recipes
Cooking with your kids, when the time allows, is a win-win for everyone involved. 
In addition to cooking with your kids, get you kids involved in weekly menu planning and make an effort to cook at least one dinner a week together as a family. When menu planning, challenge your kids to choose a protein, carb & vegetable dish. Having them choose the vegetable dish for dinner makes it more likely they will actually eat it. 
THE PERKS:
1. Get kids excited to try new things. 
Involving kids in prepping meals, makes them much more excited to try the food they prep. So if you are attempting to get your kids more into fruits & vegetables, having them prep it with you and take ownership of the meal, will increase the likelihood your kids will be motivated to eat  kale, broccoli, or carrots. 
2. Bonding activity.
Cooking together with your kids is also a great bonding activity. Inevitably, dinner has to be served and involving your children in the process creates a positive, 'working-as-a-family', vibe to dinner time. 
3. Builds confidence.
Anytime children complete a task and finish something on their own, they develop a sense of pride and accomplishment that builds their self esteem and confidence in their abilities to independently do things for themselves. 
TIP:
Have your kitchens stocked with kid sized aprons, kid-friendly utensils and lots of patience. You can easily purchase knives, peelers and mixing spoons specially designed for kids. 
COOKING TASKS FOR KIDS
1. Whisking & Mixing. Kids can shake salad dressings or marinades in a container or even whisk the ingredients together in a bowl. You kids can help mash potatoes, stir a soup or mix vegetables into rice. 
2. Measuring. Have your kids follow measurements from a cookbook or your instructions. While you spice the chicken and chop some veg for roasting, your kids can be measuring the ingredients you need for a salad dressing or dessert. 
3. Peeling. Peeling fruits and vegetables is an easy enough task and is helpful as well. 
4. Slicing. Older kids can be trained to use a knife properly and have the ability to be real-deal sous chefs in the kitchen. There are specialty sets designed for very young kids that aid in getting children safely trained in slicing and chopping skills.
5. Washing the dishes. Younger kids (especially if you get generous with the dish soap) LOVE washing dishes. It is a great way to hang out with them while you are cooking, without having to stress about the mess they will likely make peeling, whisking and slicing. 
5 RECIPES EASY ENOUGH TO COOK WITH YOUR KIDS
You kids can help break up the pasta, add in the spices and slice some lemons for garnish while the pasta cooks. Best of all? Prep takes all of 10 minutes. 
You kids can create the breading station, bread the fish and while you are frying, they can mash the avocados for a delicious creamy dipping sauce.
3. Sheet Pan Chicken & Veg. Dinner
Have the vegetables sliced and give your kids the option of arranging the vegetable and chicken on the tray.  
4. Creamy Ziti
You really can't go wrong with baked ziti and once you drain the pasta, kids can really do the rest. They can mix in the sauce, pour mixture into a baking tray and sprinkling on the cheese.
Make this more nutritious by adding a cup or two of your favorite vegetables (chopped cauliflower, kale, broccoli, spinach or mushrooms) and bake. 
Perfect for a Sunday. Place chicken into a slow cooker and have kids mix and pour sauce. Cover. Come home to a fabulous meal made by your kids.