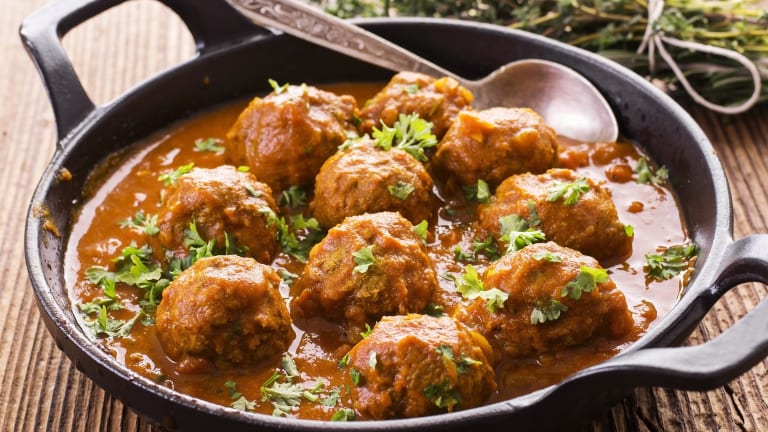 Ground Beef Recipes Go Beyond Burgers
THE MEAT OF THE MATTER: KOSHER MEAT TIPS FROM NAF HANAU, GROW AND BEHOLD FOODS
Naftali Hanau grew up around the corner from the kosher butcher, and has loved meat from a young age. He eventually learned shechita and founded our favorite kosher meat company, Grow and Behold Foods, which sells delicious OU Glatt kosher pastured meat to customers all over the USA. Naf joins us here at JOY of KOSHER with Jamie Geller every month to break down various cuts of meat, serve up his secret recipes and answer your "meaty" questions. Post comments below, or contact Naf directly at meatexpert@growandbehold.com.
Meatballs…Stuffed Vegetables…Meat Sauce…Meat Loaf…
"Ground" or "chopped" meat has so many uses, it deserves a prominent place in your food rotation, and not just for weekday meals! With the proper attention, chopped meat can make an affordable and stunning holiday feast.
Three things to keep in mind:
1. Use a gentle hand. Over-mixing can lead to dense, chewy meat. Mix all your other ingredients first, then lightly incorporate meat without stirring too heavily.
2. Add with caution: Good meat needs very little else to make it shine. We're not huge fans of adding fillers like breadcrumbs, eggs, etc. However, expertly dispatched spices and tiny flavorful additions like currants, peppers, or garlic can really make a dish pop.
Use Grow and Behold pastured ground beef or ground lamb in this Hearty Meat Sauce recipe.
3. Mix and match. Dress up your go-to recipe with a combination of beef & veal or beef & lamb. The addition of another kind of meat can have interesting and delicious effects, with no added effort! Ground rose veal will lighten the finished dish; ground lamb will add depth and earthy flavor. If you're working with ground poultry, use a combination of breast and dark meat to ensure your dish is moist and flavorful.
MORE: Ground Beef Basics
Use Grow and Behold ground beef and ground lamb to make this flavorful dish.
These meatballs can be made with only ground beef, or a mixture of beef and veal, which is lighter and milder than 100% beef.
Eating "stuffed" foods are traditional on Sukkot, when we are celebrating an abundant harvest and praying for blessings for the year to come. However, they need not only be enjoyed in the sukkah. Although they involve some advance prep, in general they can be prepared then frozen so you have two meals for the work of one.
Stuffed cabbage is traditionally associated with Sukkot, which falls during the autumn harvest when cabbage is king. Instead of sauerkraut, we fold in our spicy Ashkenazi kimchi to add an extra kick. Both versions of this recipe work great with sauerkraut as well.
STUFFED PEPPERS WITH CURRANTS, DATES, AND CAPERS
Stuffed peppers are a perfect dish for Sukkot. Use Grow & Behold meatball mix or combine ground beef with ground rose veal or ground lamb in this recipe. Using different kinds of meat changes the flavor of the meal.
MORE: 30 Stuffed Foods for Sukkot
But wait -- don't they put all kinds of gross stuff in ground meat? Our most important recommendation for buying any meat is know your butcher. Ground beef, lamb, poultry, and meatball mix (veal + beef) from Grow and Behold is ground from only the freshest and well-trimmed meat. It is frozen immediately to ensure you receive the freshest, highest quality product. While you may certainly grind your own (some have a dedicated food processor, some use a meat grinder attachment for a stand mixer), we say save yourself the trouble and let us take care of it for you!
Find ground meat here or give us a call at 888-790-5781, we'd be happy to help you find the perfect meats for your next meal.
These Cumin Lamb Kebobs can be grilled, broiled, or pan-fried.  
Want stories like this delivered right to your inbox? Sign up now for our *free* JOY of KOSHER Newsletter.