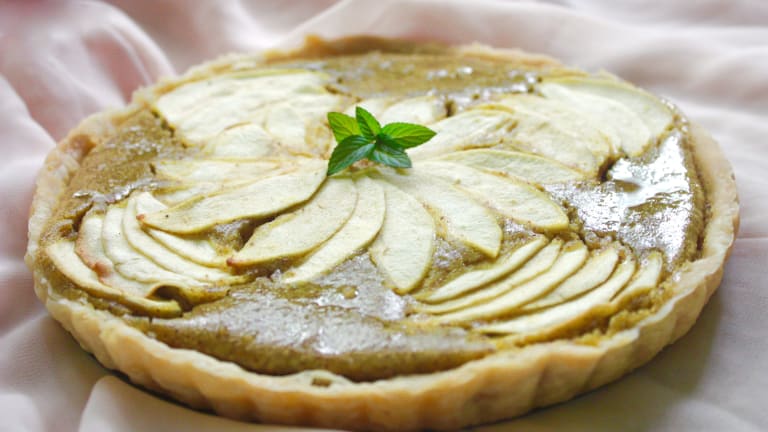 Vegan Rosh Hashanah
Growing up, there was little to distinguish the Rosh Hashanah meal from that of any other Shabbat, save the larger number of guests attending, round challot, and apples with honey. As I grew older and began reading about more varied Rosh Hashanah traditions, I realized there was a world of edible symbolism my family and I were missing out on. In recent years, I have striven to create sumptuous vegan dishes that take advantage of the many traditional vegetarian foods found in the New Years meal. 
This menu pulls inspiration from the symbolic foods served on Sephardi, Mizrachi, and Ashkenazi tables, such as squash and leeks, but served in rather unorthodox ways. From a squash soup scented with red curry paste, to carrot bacon, to a classic French frangipane perfumed with saffron, you and your guests will enjoy these inventive uses of classic Rosh Hashanah symbols. Shana tova u'metuka!  
RED THAI CURRY PUMPKIN SOUP WITH RED LENTILS  
This fragrant coconut broth is the perfect soup for the beginning of fall, studded with hearty red lentils and succulent squash. It is perfect for warm, sunny days and cool autumn evenings.    
KALE SALAD WITH CARAMELIZED LEEK VINAIGRETTE AND CARROT "BACON"
Topped with crunchy pomegranate seeds and carrot bacon crisps that are both sweet and savory, this Kale Salad makes for light and fresh starter to any meal.   Sweet, caramelized leeks are the base of a well-balanced vinaigrette.
 ASHLEY'S ULTIMATE VEGAN CHALLAH  
Sweet and fluffy, this is the ultimate, egg-free challah. A chickpea flour custard add that familiar enriched dough feel in a traditional sweet challah, while keeping the crumb extra moist and soft.
CHICKPEA ROULADE WITH SPINACH AND PINENUT STUFFING
Vegetarians rejoice! Here is the stunning centerpiece for your holiday meals! Robust chickpeas serve as the base of this roulade, which is stuffed with fresh, garlicky spinach and crunchy pinenuts. Easy to assemble, it slices beautifully. Serve with the sweet and tangy pomegranate date sauce for a new Rosh Hashanah tradition.
APPLE AND SAFFRON FRANGIPANE TART WITH "HONEY" GLAZE  
This refined French classic gets a Rosh Hashanah update with the choice of thinly sliced apples and a honey glaze. The almond custard base is scented with a hint of floral saffron for a sophisticated dessert that is easier than it looks.  
Want stories like this delivered right to your inbox? Sign up now for our *free* JOY of KOSHER Newsletter.