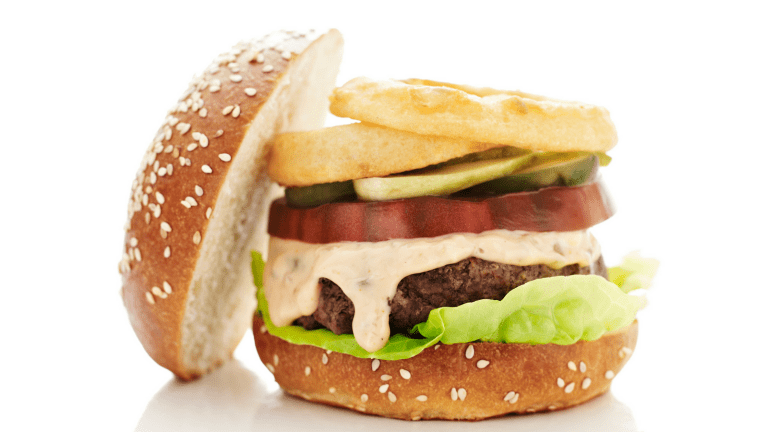 9 Burgers 9 Ways with 8 Homemade Condiments
There's nothing like biting into a juicy burger, soft bun, crisp lettuce, fresh sliced tomatoes, oozing with grilled onions and ketchup.  Burgers aren't limited to beef though—try these delish variations using fish, turkey, and veggies. And when the ol' ketchup & mustard just won't do, top these creations with special sauce, pico de gallo, and black olive tapenade. No boring burgers at this "Q!" (Go ahead—lick your fingers, nobody's looking.)
This burger is extra "Special" with homemade Special Sauce, you won't believe how easy it is to make it your own. 
BBQ BEEF BURGER WITH QUICK PICKLES
 This simple, no-fuss burger is livened up with with No Cook BBQ Sauce that pairs perfectly with the tang of the quick pickles. 
Change up your burger BBQ with guacamole and Pico de Gallo, what can be bad?
When you want to go lean try ground turkey, high in lean protein, low in fat.  Top with my Roasted Tomato Sauce for the perfect flavor combo. 
Any vegetarians or do you just want some cheese with that burger?  This homemade veggie burger is made with rice and veggies and topped with Herbed Honey Mustard and crumbled feta.  
For the vegetarians at your BBQ this is the easiest of them all and everyone else will love them too.  You might even top your beef burger with one of these grilled portobellos. 
When you're in the mood for fish, but also want a burger you can try this tuna burger with the added Mediterranean flavors of this Black Olive Tapenade.  
Salmon also makes a tasty burger especially when it is topped with Wasabi Mayo for an Asian twist.
Not your typical burger, this one is made from mock crab and goes best with Easy Tartar Sauce.