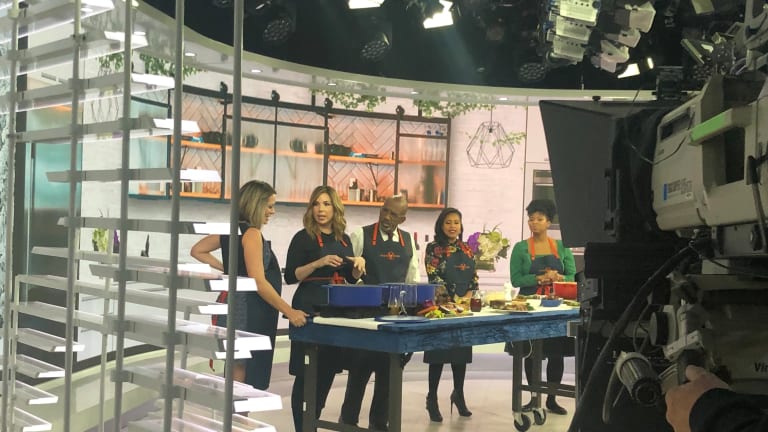 Brisket Makeover Monday on the Today Show
On December 23 2019, the first day of Hanukkah I was on the Today Show!!!
For this Makeover Monday holiday special I made brisket and latkes for Al Roker, Dylan Dreyer, and Sheinelle Jones, while Jocelyn Delk Adams shared her holiday makeover specials.
Here I am backstage prepping the demo table with the TODAY Show Culinary Team
I started with my Classic Perfect-Every-Time Oven Braised Brisket and then showed how to repurpose the leftovers (as if!) all week long.
Here are 2 behind-the-scenes clips taken with my iPhone on set. To watch the entire segment click here.
Now that you have your soft buttery brisket, you can pull and smother the leftovers in BBQ sauce and pile on top of, or sandwich in between your favorite latkes. Also try sautéing shredded brisket with shawarma spices and stuffing in a pita with all the fixins.
We call these kinds of leftovers, right-overs, because everything about them is just, sooooo right! These makeovers are unrecognizable. No one will believe you cooked once to feed the family 3 different meals entirely. One important tip.... double that brisket recipe if you want to stretch it, cause you'll have to actually plan for leftovers since it's just that good.
Click here to watch the entire Chanukah Today Show segment.
Love the TODAY Show like I love the Today Show? Let's look back at my past decade of appearances making latkes, brisket, babkas, matzo, soups, stews and more with Hoda (and Kathie Lee!), Dylan, Al, Carson and Shenielle.