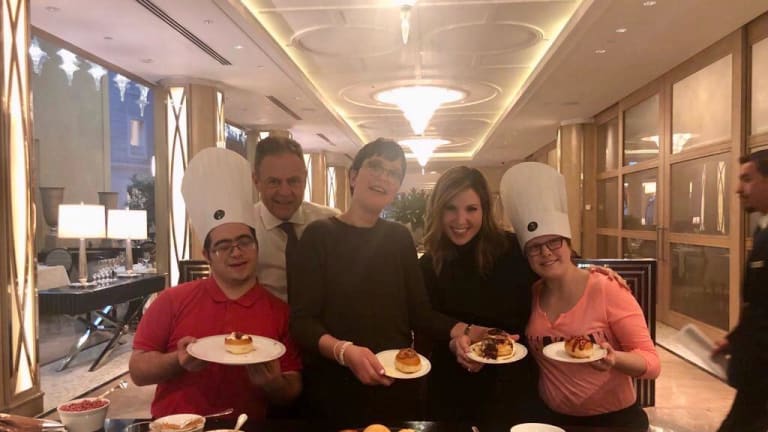 Chanukah at the Waldorf Astoria Jerusalem
With each Chanukah candle we bring immeasurable light into our lives and the world.  On the 2nd night of Chanukah the entire Waldorf Astoria Jerusalem was alight with candles, joy and inspiration.
I had the distinct pleasure of joining the Monday night candle-lighting ceremony when General Manager Avner On and I lit the majestic menorah with graduates of Shalva National Center.  Shalva, a non-profit organization based in Jerusalem, supports and empowers individuals with disabilities and their families - leading the way the world understands, cares for and embraces disability.
Our festivities began with something sweet, doughnut decorating.  We could not have had more fun.  And the doughnuts decorated by Ella, Refael and Ortal could not have been more beautiful.
Our sufganiya party was followed by a candle-lighting ceremony that was so moving it reminded me, in the most profound way, why giving is so much more powerful than receiving.  You get more than you give when you donate your time and give from your heart to individuals with disabilities.  
The Waldorf Astoria "adopted" Shalva as their charity of choice, 6 years ago with the luxury hotel's grand opening.  To watch the loving relationship that has developed between Avner (and really the entire hotel staff) and the Shalvah students was heartwarming to the nth degree.
I gained 3 new friends (Refael, Ortal, Ella and I all now follow each other on Insta - so it's real!) and certainly made a life change.  The holidays have never been too focused on gifting in my family but, at the same time, they were never too focused on giving either.  We now have a new family tradition -- Chanukah volunteering.  Turns out this is the best holiday gift we can give to our families and our larger Jewish family.  I learned that this year, from the Waldorf and Shalva.  
Sending you abundant blessings and wishes that we should all, always, be on the giving end of this priceless holiday gift!  Happy Chanukah!