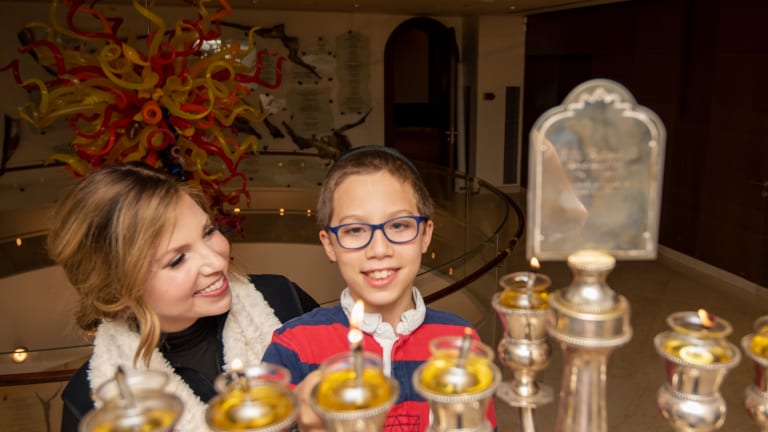 Big Special Announcement
I announced a big, bold, scary move last night. I have taken on the position of Chief Media & Marketing Officer at Aish Global. This is in addition to my role as CEO of Kosher Network International (home to JamieGeller.com and the Jewlish by Jamie viral video brand) and my most important job as wife, mother and CEO of the Geller household.
As Aish CMO, I am primarily tasked with overseeing and building online media content and delivery, a central component of Aish's new 10-year strategic vision to engage 3 million Jews in Torah learning by 2030! This includes building a new Global Jewish Media Group, streamlining the Aish brand, including our dozens of branches, projects, programs and initiatives around the world, as well as growing Aish's digital presence and strategic partnerships.
Watch me explain this all from the rooftop of Aish, on the 6th night of Chanukah, below.
When I say I feel like my entire life has led up to this moment, that is not an understatement. Exactly 20 years ago this Shabbat, I attended an Aish Discovery weekend seminar that changed the trajectory of my life forever. That seminar was part of a natural progression from Aish weekly classes to Aish weekend retreat - all a result of my search for purpose and meaning, at the turn of the 21st century, in the Big Apple.
Now, two decades later, after a long and winding road that included stops at CNN (where I interviewed the likes of Beyonce and Gwenyth at places like the Oscars and Emmys) and HBO (where I picked up a few awards for programming featuring Madonna and Britney and shows like Sopranos and Sex in the City). Followed by my foray into domesticity… kicked off with a proper Jewish wedding ceremony to the love of my life (Hubby and I are ready to celebrate lucky number 16!), resulting in more than a handful of cuties (3 boys and 3 girls, puh puh puh) while authoring more cookbooks than kids (not sure how that happened?!).
Almost 9 years ago we picked up our family (along with lots of copies of those heavy cookbooks) and made aliyah (best decision ever!). And while getting settled in Israel during what was a largely sleepless decade I co-founded a Kosher food media company alongside my mentor Henry Kauftheil, one of the most philanthropic serial entrepreneurs in the world.
It's also worth noting my far less glamorous, personal accomplishments over the last 20 years like.... gaining and losing and gaining back that same 30 lbs (over and over and over again), learning how to cook (which was actually touch-and-go for a while), managing to find a way to both laugh and cry with my teenagers (G-d help me!), and coming out surprisingly unscathed from the most recent preschool parent teacher conference (which was also a touch-and-go for a while!).
And now I stand before you. Humbled and honored and hoping with G-d's help to change the world together with you and for you.
I opened this message by calling this a "big scary move" which is #6 of Aish's popular 48 Ways to Wisdom; Mastering Fear. Rabbis Coopersmith and Simmons describe in that chapter that "Fear opens our eyes to seeing the significance of our choices and motivates us to push beyond our comfort zones." and "When we appreciate the high stakes of our actions, we feel that we are living life at its fullest." I am exhilarated and thrilled to be taking on these high stakes and push beyond my own comfort zone to work together with the fantastic Aish team (including Rabbi Coopersmith) both in Jerusalem and around the globe, to innovate and disrupt the industry of online Jewish entertainment and education, content and curriculum, creation and dissemination.
More to come soon.
But in the meantime, thank you. It's because you are reading this or have watched my work, that I find myself here today. I can't wait to journey into the next decade together with you.