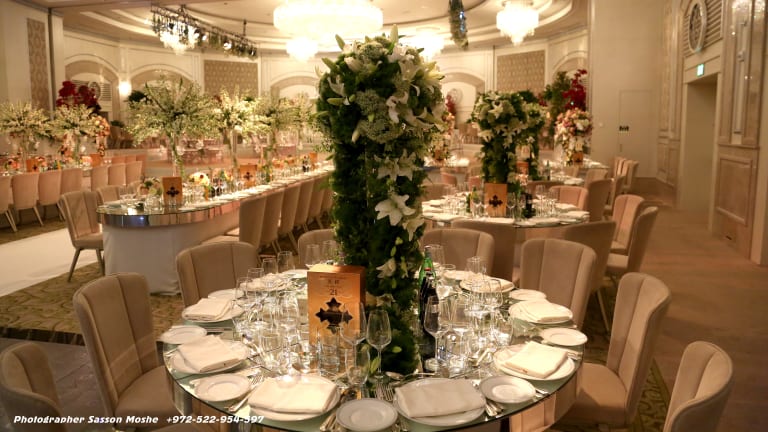 Mazel Tov! My Mommy is Married!
My daughter said she'd like to get married at the Waldorf. She's 12.
It all started 13 years ago when Hubby and I got engaged at the Waldorf Astoria in Manhattan. It happened there because we dated there and we dated there because he knew how much I loved it - having vacationed at the Waldorf growing up with my family.  
I remember my parents making my sister and I nap the day of an evening broadway show and dinner.  Way too excited to sleep - we stood mesmerized at the hotel window counting the yellow cabs driving on 5th.  
Truth be told, I always planned to get married at the Waldorf too.  But once I become religious and kosher it was no longer a viable option in New York.  But Hubby still took great pains to make the Waldorf part of our story and so we he would surprise me with getaways for my birthday since the NYC location was surrounded by many a great kosher restaurants.
One year when we were vacationing in Israel (after I adamantly told Hubby for the hundredth time that I would never make aliyah) we saw it.  As we walked toward the Old City via the Jaffa Gate we passed a massive construction project adorned with the Waldorf Astoria insignia. "Now Jamie - you can move to Israel" were Hubby's (exact) famous prophetic words.
Like mother like daughter- as soon as my oldest stepped foot into the luxurious hotel lobby of the new Waldorf Astoria Jerusalem and then the Grand Ballroom she announced her plans to marry at this very spot under the most exquisite chandelier. Of course we told her, "We will discuss it when the time comes" - holding her off for a few years at least.
Well, tiny wrinkle in the plans when...
Like mother like daughter- my mom got married this year at the Waldorf Astoria Jerusalem. And now it seems our fate is sealed.
I called Avner On, the GM of the Waldorf Astoria Jerusalem and my friend  - asking him to take care of my momma on her special day. Boy did we have a good giggle when he said he usually gets calls from the mother of the bride not the daughter of the bride.
My mom and stepfather Jerry had the most beautiful intimate wedding - filled with family and the people that love them most.  It was amazing to see the Grand Ballroom transform into an intimate space for a celebration for 50.  I took no pictures throughout the evening since I wanted to be fully present and not experience the simcha from behind the phone.  Luckily my filmmaker Brian K. Spector was there (working for mom that night) to capture the simcha.  I was crying all night (I no longer have to explain "my tears of JOY" to my kids who are all too familiar with my happy crying).  Tell me if this video makes you emotional too?
Since I saw the Grand Ballroom set for a small affair, Avner invited me, a few days ago, to see the Ballroom in all its glory at an exclusive event for Israeli based party producers, planners, florists and the like.  
What an evening.  
The decor that night could best be described as understated elegance, as truly, the room needs next-to- nothing.  But somehow they managed to further enhance the decor with a low profile centerpiece display running the length of the table, allowing for cross table conversation and an intimate setting even though seating stretched the length of the 700 square meter pillar-less space.
Let me start from the beginning.
The gently heated underground parking facility is a pleasure to pull into - a true luxury in the heart of (chilly) Jerusalem. The elevator carries you straight to the 500 square meter pre-function foyer flooded with floor to ceiling doors and natural light.  Celebratory artwork from Huvy (my favorite Jerusalem-based painter) enhances the atmosphere of JOY and this space too needs next to nothing save for great food and wine. Which famed Master Chef, Chef Itzik is always sure to have on hand.
On this night, a simple display of floating candles in various sized glass vases danced and glowed to the tunes of classical pop played by musicians who had newly immigrated to our wonderful country.
After sweetbread, salmon tartare, thai green papaya salad and a selection from Flam, Israel's award winning winery - we were ushered into the largest ballroom in central Jerusalem. 
I received an exclusive early access tour of the space just before the party poured in from my friend, Waldorf Astoria GM Avner On.  Matching the space, Avner has this elegant Israeli-European accent that comes from his years abroad in London as the GM of the largest event space in all of England – London Hilton Metropole. We discussed how perfectly suited the Grand Ballroom is for weddings, bar mitzvas, sheva brachos and the like given the ability to divide the space into 3 sections.  See the timeless glamour of the space which feels quite magical at nightfall and is certainly reminiscent of the city of biblical kings and royalty.
Famed Master Chef Itzik Barak who participated in the Taste Of Waldorf 2016 top culinary event in New York uniquely customizes the menu for each party.
And Pastry Chef Claude Ben Simon delivers exquisite and authentic French pastries robed in chocolate and adorned with gold (bling bling!)
As the only international luxury hotel in all of Jerusalem, a simcha at the Waldorf Astoria Jerusalem ensures True Waldorf Service and a boat load of tears (of JOY of course)!
Mazel Tov!