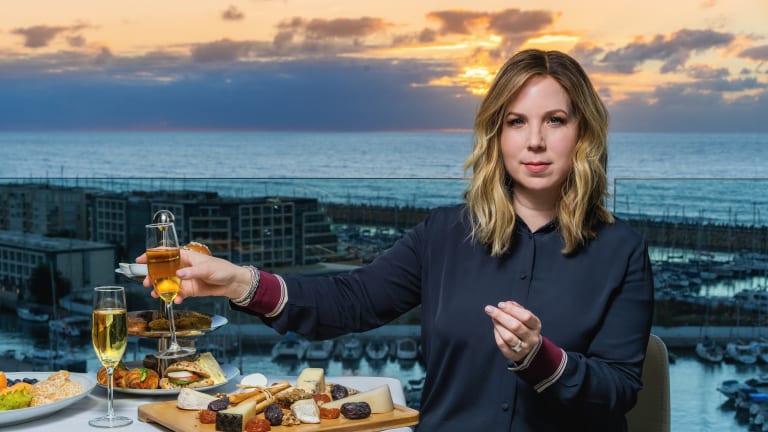 The Best Hotel in Herzliya, A Review
Where to start - how about with the approach to the property?

Every time I drive toward the Mediterranean Sea and see the famous Ritz-Carlton Herzliya landmark towers dotting the sky, along with the sailboats sparkling in the marina I feel transported. Every single time I sigh and say to myself (or to whoever will listen) "I want to live here".
An affluent suburb 15 minutes north of Tel Aviv, Herzliya is home to clean beaches, a magical marina and slew of sea front cafes and restaurants.

The beaches are beautiful and not overcrowded. And in the summer months there is even a stunning strip of shoreline dedicated to separate sunbathing and swimming for men and women. Click here to see the schedule.

And whether beaching or boating is your thing, just living along the shore (the rooms with Marina views are my favorite) immediately results in a sense of inner peace and tranquility.

And when I say "living" I mean "living."

You see, the property was conceived of as hybrid hotel and residence so the selection of family suites can include a 1- or 2- bedroom, plus kitchen, plus living room, plus dining room, plus large terrace, and generous indoor-outdoor living space which REALLY! makes it feel like home for your stay.

The décor is understated, nautical, beach-side, luxury and on-point in every way. The floor to ceiling glass windows with marina, sea or beach views (even from the bathroom) along with expansive balconies and endless shimmering water is enough to make anyone feel like they'd want to call this place home.
And we haven't even discussed the food yet.
The marina is filled with a fine selection of kosher restaurants and cafes, both meat and dairy for stunning seaside dining but my absolute favorite place to eat is the hotel.
The Herbert Samuel Herzliya Restaurant is not just a good hotel eatery, it's a destination chef restaurant for locals (which is my litmus test for exceptional and successful). One of my favorite kosher restaurants in all of Israel, Herbert Samuel, in addition to an open kitchen style dinner service, is responsible for the entire hotel culinary experience. Serving a fresh and fabulous homemade, hand cut, understated, elegant breakfast, lovely light lobby menu (including an exotic Mediterranean high tea) and fun, fast and fresh room service perfect for families and casual late night snacks.
And then there's the roof top pool and bar. Grab a cozy couch or lounge chair that allows you to view the pool, sea and sky from the same angle - which boasts an infinite expansive view of tranquil blue. (It's almost a spiritual experience).

The pool sits on top the two floor spa which you can connect to from the roof or internally via the 10th floor. Treatment selections include champagne facials and the stuff caviar dreams are made of.


It's central location and quieter than Tel-Aviv vibe should entice you to put the Ritz-Carlton Herzliya on your itinerary. If you don't believe me just swipe through some more pictures. This could be you.