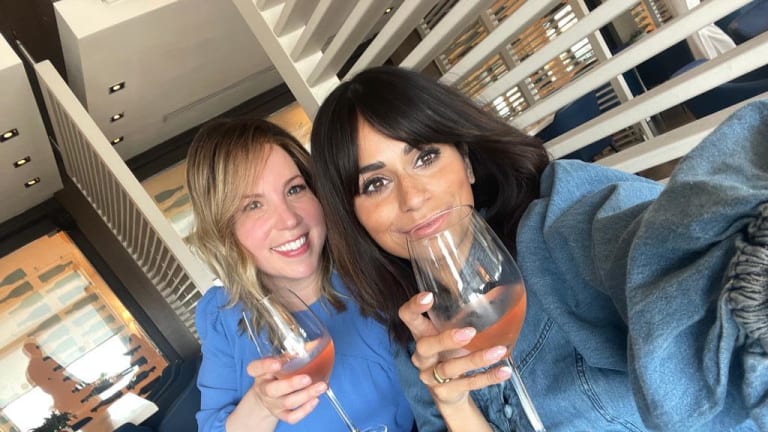 The Ultimate Girls Day Out In Israel
I have sacrificed a lot by having a big career and big family. I have also gained a lot including a sense of peace knowing and realizing my purpose in life. I now have the means, platform and name recognition to do work that is truly meaningful and life changing for the Jewish people. And I have been gifted 6 (ky"h) precious souls with the awesome responsibility of raising good adults who are healthy, functioning and giving members of society who will undoubtedly make this world a better place (please G-d!).
But these ultimate privileges and responsibilities take time. Oh so much time. And not just the universal laws of time which dictate that there are 60-seconds-in-a-minute and 60-minutes-in-an-hour and 24-hours-in-a-day and 7-days-in-a-week. But the kind of emotional and mental time and space that cannot be counted but that actually counts and accounts for so much more.
And now 25 years into my career and 18 years into my marriage and way past the baby stage (my youngest is 7) I'm searching for what has been an elusive quality of life and mind-body-soul balance that my soul seems to need.
I have largely ignored my health (despite the various attempts at super starting an eating and exercise plan that have come and gone in spurts, never lasting more than 6 months, with multi-year breaks in between those efforts). I have also largely ignored any kind of social life.
I have a few lifelong friends and have met more than a few women in my adult years that I know could have become lifelong friends but I simply didn't have-, correction, -never made, the time to socialize in the ways that bond people.
Until now.
I have taken a personal accounting of my life (which we all should be sure to do every now and again) and have been trying to ask myself how I can incorporate a health & wellness plan that factors in the social, spiritual, physical and mental components that make for a well balanced, happy life.
Until I start exercising (it's on the bucket list for this coming year) I have decided to indulge in spa days to give to myself that me-time and uninterrupted peaceful headspace to just be and be pampered. And this time I decided to elevate that experience with a ladies spa day to bond with some of the women I love and admire.
I invited Olympic hopeful Beatie Deutsch, Superstar Singer Chanale, Women's Health Advocate Malka Chana aka Bohemian Balabusta and Fashionista Rachelle Yadegar Zarabian.
We went to the Ritz Carlton Herzliya because for us it's the closest getaway on the map. Located in the center of Israel, just north of Tel Aviv and a little over an hour from Jerusalem, paradise is just 60 minutes away. The hotel is set against the backdrop of the Mediterranean Sea which is visible from almost every angle in the largely glass enclosed hotel. It's essentially a sea of blue as far as the eye can see.
We started in a suite (because where else do you start a day of pampering?!??!) with a lavish authentic, handmade and homemade, Israeli breakfast spread. We opted for the private in-room dining experience largely so we could get the kids and our morning affairs in order before coming together to spend the day.
In addition to the fresh produce and pastries the hotel had personalized Israeli craft beers lined up like soldiers just waiting for our arrival along with a branded sun hats splayed across the coffee table. The Ritz never disappoints and treats every single guest like a VIP. I didn't drink my beer, I took pictures with it and brought it home as a souvenir and so did Chanale!!! She said it's going on her wall of fame. (I wonder if Beatie placed it next to her medals?)
I also liked the intimate in-room breakfast because we got to indulge in that precious bonding time which happens so naturally amongst women around a table.
Then it was time to be officially pampered. We changed into our robes and headed to the award winning Christina Spa for our treatments. Both before and after a luxurious massage which I was sure was 5 minutes and not 50 (how could it be? It was a fabulous flash!) We chilled in the relaxation room, sweated in the hamam, and talked some more.
Since we had worked up an appetite (HA!), it was suddenly time for lunch. The 4 course chef tasting menu was lavish and unique - each dish outshone the next until there was simply no room left on the table and no words left to describe the experience. Chef Aviad and Sommelier Tomer of the Herbert Samuel Restaurant outdid themselves, like they always do and we were the happy recipients of their genius.
Bellies full and backs relaxed, we headed to the rooftop infinity pool & bar and opted for lounge chairs facing the deep blue sea and endless sky, watching the sunset until the pool closed.
We considered squatting but thought that may be in poor taste but honestly we weren't even sad to go after this special day. I feel like it was just perfect in that it recharged us as women, wives, mothers, entrepreneurs and just what the doctor ordered in terms of investing in ourselves and the power of friendship.
25 years into my career and 18 years into my marriage I have learned that some of the keys to ultimate joy and happiness lie in the special moments in time we choose to invest in ourselves and our friendships. Both which sustain us through our ultimate investments of time and energy into our families (and careers).
I made a career out of rejecting slavery (I always say slaving in the kitchen is so "yesterday") and have built a life on sacrifice (as I explained at that top of this article). I am now ready to find that balance which doesn't lean so heavily on sacrificing myself and social life in the name of the greater good. Because I know I am greater for having spent this special day with these special women – and I know I am good and can do good when I have good friends by my side.