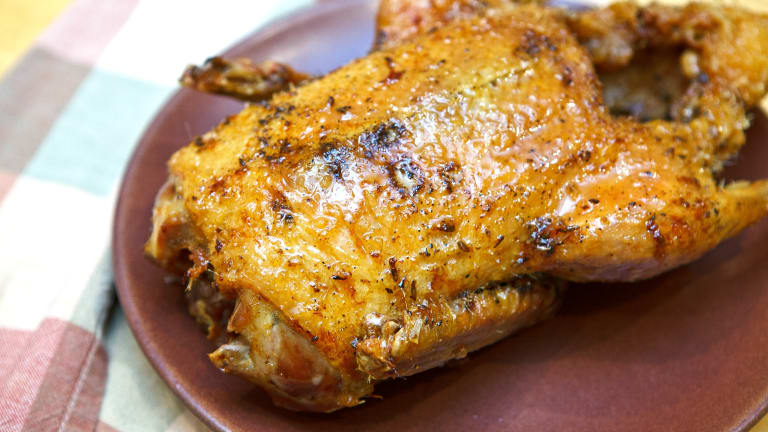 Demystifying Duck: How To Cook Duck
DUCK
The word conjures up an image of the ultimate restaurant dish, with perfectly crisped skin, juicy meat, and that deep, rich flavor achievable only by trained chefs working in a professional restaurant kitchen. 
Kosher duck hasn't always been easy to get, but over the last year we at Grow & Behold are proud to offer a full selection of duck products, from beautiful whole birds to breasts, and even bones for use in making stock.  
It was not an easy feat to find a supplier that upheld the same rigorous animal treatment standards that we believe in and a kosher facility that could accommodate the intricate process of processing and plucking the birds. But, we did it and today my favorite treat is Grilled Duck Wings. It's the most economical cut and a fun way to experience duck. 
So what's the secret to cooking duck at home? 
Confidence, and really good meat. If you are ready to master duck, start with the fresh, flavorful meat from Grow & Behold.  It isn't gamey, it looks beautiful, and it has a fresh taste.
As for what cut to try, you've got a few options: 
Purchase a whole duck and cook it whole; butcher it down to give you breasts, legs and wings that you can cook separately (see tips below); or buy just the parts you want to try. By far our favorite method is simply to roast a whole duck -- it's the simplest, and yields at least a cup, if not more, of delicious schmaltz which can be saved and used for potatoes, challah, etc. etc.  
ROAST DUCK WITH CUMIN AND LAVENDER 
Fat is flavor, they say, and duck has a lot of fat. Luckily, though, it is mostly concentrated under the skin, so by scoring or pricking the skin well and flipping the duck over at intervals, that fat should drip right down into your pan, crisping the skin as it goes. Make sure to collect that fat and save it in a jar. Use it for potatoes, roasted vegetables, sautéed garlic, or steamed kale with apple cider vinegar.  Duck fat is really incredible. It's like fleishig butter!
Once you master the art of scoring and flipping your bird, cooking duck is no more difficult than roasting a whole chicken. Roast for 45 minutes at 425 degrees breast-side up, drain the fat from the pan, and roast until the fat stops rendering out. Let it rest before carving and draining any additional fat.
PAN SEARED DUCK BREAST WITH ONION MARMALADE
For an even easier duck dinner, opt for duck breasts, which can be simply seared and then roasted and still give off a nice amount of that delicious fat. The rich, savory meatiness of good duck pairs extraordinarily well with sweet flavors. Rather than cook it with a sweet sauce, I like to pair it with something sweet after cooking.  My secret ingredient is a small amount of dried lavender perfuming the meat.
DUCK CONFIT WITH PICKLED FRUIT
"Confit" means "with fat". Essentially, you are 'sous-vide' or slow-roasting duck in its own fat, which loosens the meat and renders out the fat. Save the fat for another use, and you're left with delicious, meltingly-tender duck. We love this pickled raisin sauce for serving with duck confit (or even the whole-roasted duck).
Other great options: Wine-plumped dried fruit, pomegranate seeds, candied orange, or even tiny summer blueberries—use your imagination to give this king of poultry accompaniments that will make it shine.
Last but not least, the duck wings. If you've bought a whole duck, you can confit the wings along side the legs. Or, try an order of just wings -- the most economical way to enjoy a delicious duck treat. Baste with a sweet Asian-infused glaze like our 5-Spice Glaze and grill until tender.  
Article modified from original by Devorah Backman
Photography by Moshe Lew
Want stories like this delivered right to your inbox? Sign up now for our *free* JOY of KOSHER Newsletter.