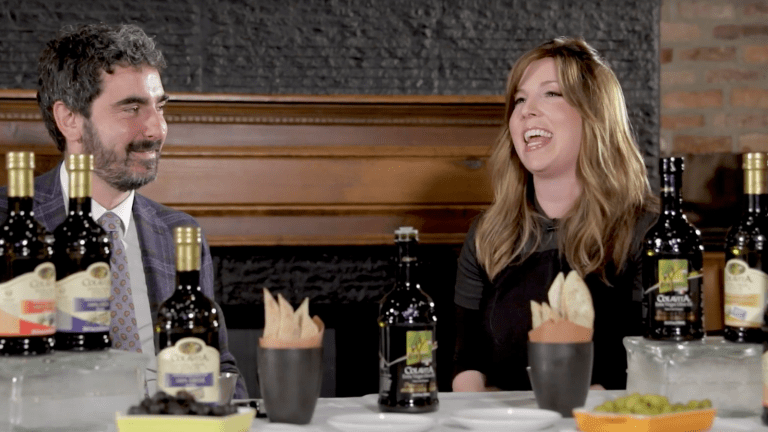 How To Tell The Quality of Olive Oil
Extra virgin olive oil is one of my favorite ingredients, so I sat down with Giovanni Colavita, my olive oil guru, to learn more about the qualities to look for in my olive oil. 
Watch the video and read a bit more here:
SMELL
1. What are we looking for in the smell of extra-virgin olive oil? 
Extra virgin should have pleasant fresh aromas ranging from fruity, nutty, TO fresh cut grass, floral, etc...
2. Do different types of olives produce different aromas? 
Absolutely - there is a direct correlation between the type of olive, as well as the terroir, and the aroma.
3. Do you just smell from the bottle or should you pour out the oil? 
To properly experience the aroma of extra virgin olive oil it should be first poured into a small glass. Then place the base of the glass in the palm of your hand, cupping it, cover the top of the glass with your other hand and swirl gently. This warms the oil slightly and opens the aroma, remove your hand from the top and take a deep breath.
TASTE
1. How do tastes differ between quality olive oil and not-quality olive oil? 
Let's say that there are desirable and non-desirable flavors as well as textures when it comes to extra virgin olive oil. Desirable traits would be: bitter, fruity, grassy, green, nutty, artichoke, creamy and buttery. Negative traits: rancid, moldy and soil, burnt, and fiscolo (dirty hemp).
2. What is the best way to taste olive oil?
Begin by warming the oil as described above and then take a sip of the oil, clench your teeth and suck back. This allows the oil to open up and coat your palette exposing the texture and flavors. Take note of how the tastes and sensations evolve as well as the length of finish.