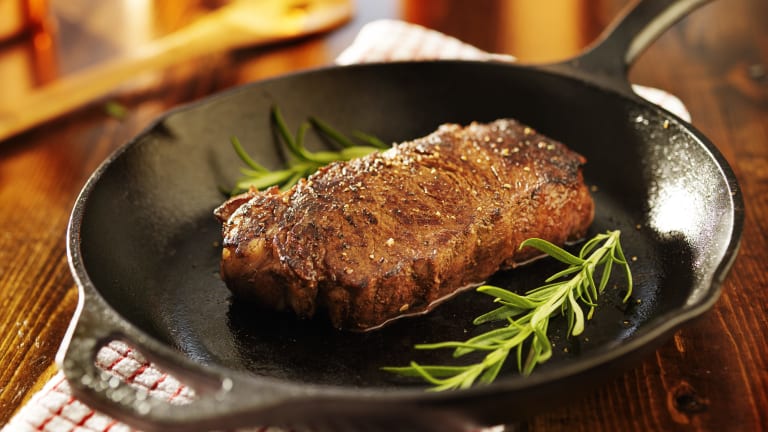 Let's Get Searing!

Sometimes a seemingly small extra step can take a dish from seasoned to succulent . Pan-searing is an easy cooking technique in which the surface of the food is cooked at a high temperature until a caramelized crust forms.
It's a way to add a bold and savory touch your dish, elevating your meat, chicken or fish to flavor stardom. We've got a selection of recipes to get you started. Have no fear - you too, can sear!  
Every home cook should have a basic seared salmon recipe in their repertoire, this version begins in the pan and continues in the oven. The result is a flavorful piece of fish that can be served alongside anything from baked potatoes to roasted tomatoes. Not too different from a basic Pan Seared Steak (pictured above), once you master the technique you won't cook any other way. 
Pan Seared Duck Breasts with Lingonberry Reduction
This pan-seared duck breast with lingonberry reduction recipe couldn't be any easier: Pick up some lingonberry preserves, the sweet-tart flavor will compliment the flavor of the duck.
Roasted Garlic Rib Eye Crostini
This roasted garlic rib eye crostini is an excellent starter for a party with friends. Seared rib-steak is paired with roasted garlic and a balsamic glaze atop slices of toasted baguette. Pull off fancy in a searingly easy way!
Seared Tuna with Pineapple Salsa Balsamic Reduction
We can't get enough of the flavor of seared tuna with pineapple salsa and balsamic reduction. Yes, balsamic reduction is just one of those things that once you know how to make it, it can be used for any dish or on any vegetable. The salsa is made with pineapple but you can make a mango salsa or any fruit salsa that you like.
Note: Skillet may come pre-seasoned and would therefor need to be kashered before use, please ask your local Rabbi if you have any questions.