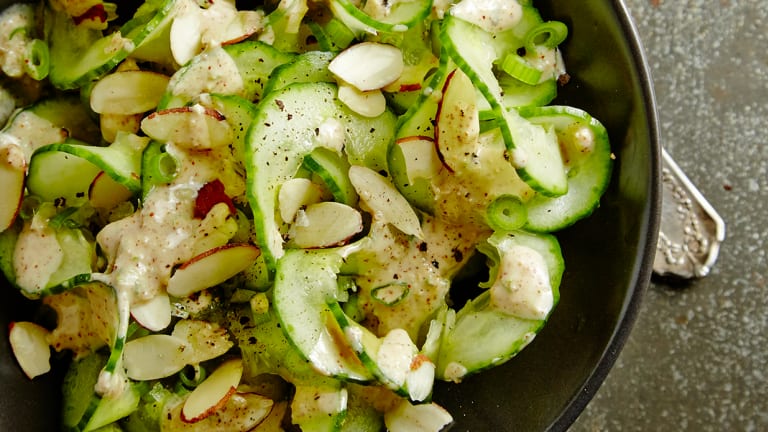 The Art of Spiralizing- Tips and Recipes
If you're new to spiralizing, I want to welcome you to a super fun fad that has taken the foodie world by storm. Spiralizing is the art of turning vegetables into noodles using a special tool known as a spiralizer. You might have heard of "zoodles" or zucchini noodles, a trend that has gained popularity among the Paleo, grain-free, and gluten-free movements.
Spiralizing is not only a great way to enjoy healthy and delicious meals, it's also a fun way to get your kids to eat their vegetables. If you think outside the box, you can make a whole lot more than just "zoodles"!
The Vegetti and the Paderno are the most popular spiralizing tools that are used to create long strands of noodles. Both gadgets create endlessly long noodles, which usually need to be trimmed into smaller strands. 
MORE: Zoodles 3 Ways- The Healthy Noodles You Have To Try
The Vegetti is a small, inexpensive hourglass-shaped tool which allows you to turn vegetables into pasta-like strips. It works like a pencil sharpener, with options for thinner or thicker strips at either end. The Vegetti works on a limited selection of vegetables that are 2.5" or smaller in diameter (mainly zucchini, squash, carrots, cucumbers, potatoes, and sweet potatoes). It cannot be used for round vegetables like beets and kohlrabi. 
The Paderno is a larger spiralizing tool that is priced between $30 and $40. It comes with 3 spiralizing blades – a 3MM noodle blade, a 6MM noodle blade, and a ribbon noodle blade (a newer Pro version also includes an angel-hair noodle blade). The spiralizer creates authentic-looking noodles and can be used for a large variety of fruits and vegetables. The Paderno is the easiest to maneuver; however, it is a bit harder to clean. 
While not necessarily a spiralizing tool, the julienne peeler deserves an honorable mention. It resembles a traditional vegetable peeler; however, its stainless steel blade is divided into multiple mini-blades that turn your strips into julienned slices. The julienne peeler is the easiest to use, the most inexpensive and the smallest. It makes the quickest "zoodles"; however, it yields the most waste. 
Regardless of what tool you use for spiralizing, experimenting with vegetable noodles is a great way to keep your Passover meals healthy, fun, and exciting!
Scroll down for recipes for your spiralizer
WATCH: The Best Zucchini Noodle Alfredo
WHAT YOU CAN SPIRALIZE WITH THE PADERNO SPIRALIZER:
Any fruit or vegetable that is at least 2.5" long and at least 1.5" in diameter. The fruit or vegetable cannot be hollow or have a pit, and it must be firm.
zucchini or summer squash
cucumbers
carrots
beets
pear
sweet potatoes  
russet potatoes
butternut squash (the neck only)
daikon 
radish
jicama
rutabaga
celeriac
kohlrabi
parsnip
turnip
yucca root
apple
plantain
TIP: Zucchini and cucumbershave a lot of water that can dilute sauces. You may want to drain them on paper towels to remove some of the moisture, or consider salting and rinsing them to draw out some of the water before using.
USING THE SPIRALIZER, YOU CAN MAKE:  
Sandwich 'buns' 
Pizza
Latkes 
Rice
Couscous 
Risotto curly fries with any vegetables 
Crusts for fish, shnitzel, sausages, or hot dogs 
Noodles for soups, pad Thai, salads
CUCUMBER SALAD WITH ALMOND BUTTER DRESSING
Use this method to create pappardelle-style noodles for salads or "pasta" dishes.  
SPANISH SWEET-POTATO RICE WITH HONEY-LIME MARINATED CHICKEN
Use this method to create rice, couscous, or risotto.  
NO-BEAN MINESTRONE WITH ZOODLES
I usually prefer to sauté my zoodles, but adding them to the soup, raw, just before serving, yields the perfect tender noodle.      
BEET PIZZA WITH ARUGULA WALNUT PESTO
Use this method to create pizza crusts, sandwich 'buns,' or latkes.