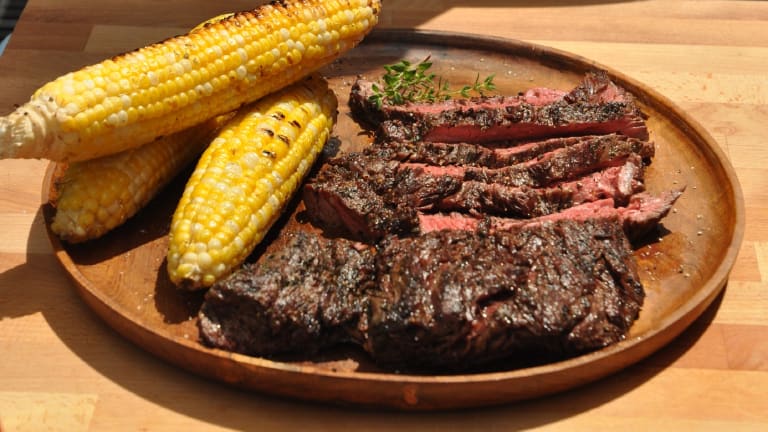 What Is London Broil and How To Cook It
Though technically the term "London Broil" refers to the cooking technique of cooking steaks quickly over high heat, it's often used to refer to three different tender cuts from the beef shoulder that take extremely well to marinades and rubs: London Broil, Minute London Broil, and Shoulder Steak.  All three of these London Broil cuts are excellent when cooked rare and then served later, cold or at room temperature, which make them ideal for Shabbat, holidays, and leftovers. As long as you don't overcook it, London Broil is a great way to serve a delicious piece of meat to a large crowd. 
LONDON BROIL
London Broil, also called "Mush London Broil" by some kosher butchers, is actually comprised of a few muscles that come from deep in the shoulder. London Broil steaks are about 1.5-2 lb. each and are very tender and very lean. Because London Broil is comprised of three different muscles, the thickness varies throughout the cut. Great for the family that likes varying degrees of doneness.
Get the recipe for LONDON BROIL WITH GARLIC WINE MARINADE
MINUTE LONDON BROIL
Also called Flatiron Steak, London Broil or Butterfly London Broil, our Minute London Broil is a thin cut made from the same cut as a Minute Roast. We remove the gristle that runs through the center, leaving a beautiful filet that is about 1" thick and weighs .75- 1.25lb.
Get the recipe for SWEET AND SOUR MINUTE LONDON BROIL
SHOULDER STEAK
Shoulder steak is often sold as "Shoulder London Broil" and is comprised of steaks cut from the Silver Tip portion of the shoulder. It's very tender, but extremely lean, with a unique "high" beefy flavor. This steak should never be cooked more than rare or medium rare, and is great served cold.
Get the recipe for PARSLEY RUB FOR LONDON BROIL
MORE LONDON BROIL COOKING TIPS
London Broils take really well to marinades, which are an easy way to add a lot of flavor to a cut of meat. It is enough to marinate meat for 2-3 hours, but you could also do it overnight (or mix up a marinade in the morning before work, and cook that evening). See our recipe suggestions or share your favorites in the comments.
A London Broil should be seared over high heat, 3-5 minutes per side depending on the size of the cut. We cook our steaks rare, to 140°F, but adjust to your preference.
Allow steaks to rest at least 5-10 minutes before slicing thinly across the grain to serve. If you like, allow steak to cool completely. Slice very thin and serve cold on sandwiches or with salad.
What's your favorite way to cook London Broil? Leave a comment below!
Naftali Hanau grew up around the corner from the kosher butcher, and has loved meat from a young age. He eventually learned shechita and founded our favorite kosher meat company, Grow and Behold Foods, which sells delicious OU Glatt kosher pastured meat to customers all over the USA. Naf joins us here at JOY of KOSHER with Jamie Geller every month to break down various cuts of meat, serve up his secret recipes and answer your "meaty" questions. Post comments below, or contact Naf directly at meatexpert@growandbehold.com.
Want stories like this delivered right to your inbox? Sign up now for our *free* JOY of KOSHER Newsletter.