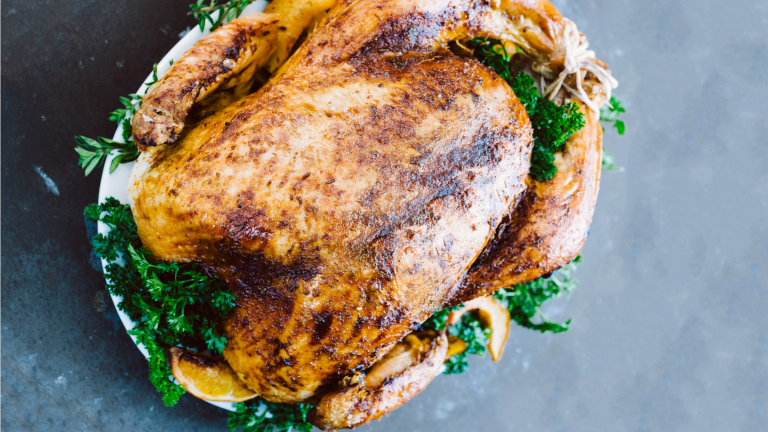 Let's Talk Turkey - 3 Ways To Cook Turkey This Thanksgiving
We love making a whole turkey any time of year, but especially for Thanksgiving.  The smell in the kitchen, the presentation of the whole large bird and the stuffing alongside is the pure Thanksgiving perfection. Just try our Sweet Chili Rubbed Roast Turkey pictured above. But there are more ways to cook and serve turkey especially if you are not a big crowd.  
If you want to have that Thanksgiving dinner without the whole turkey, here are 3 recipes using parts of the turkey that are more manageable for small groups and even worth trying for every day. 
ROASTED SAGE AND ROSEMARY TURKEY WITH SWEET POTATOES AND APPLES
This recipe uses a turkey breast roast. You must be careful not to overcook, but in this form you can easily enJOY moist flavorful white meat.  Serve with traditional Thanksgiving sides or the sweet potato and apples can make it a meal. 
OVEN FRIED TURKEY BREAST WITH ORANGE CRISPY BEETS
Another way to roast a turkey breast is to bread it, almost like an extra easy baked shnitzel. This crispy turkey is served with beet chips for perfect balance of color, texture and flavor. It is a nice alternative to the long roast of a turkey. 
Finally, if you prefer dark meat and like something saucey and easy to make ahead, try this braised turkey dish using turkey legs and thighs. 
You can also make two of these dishes and serve a deconstructed turkey with everyone's favorite pieces. 
Want stories like this delivered right to your inbox? Sign up now for our *free* JamieGeller Newsletter.