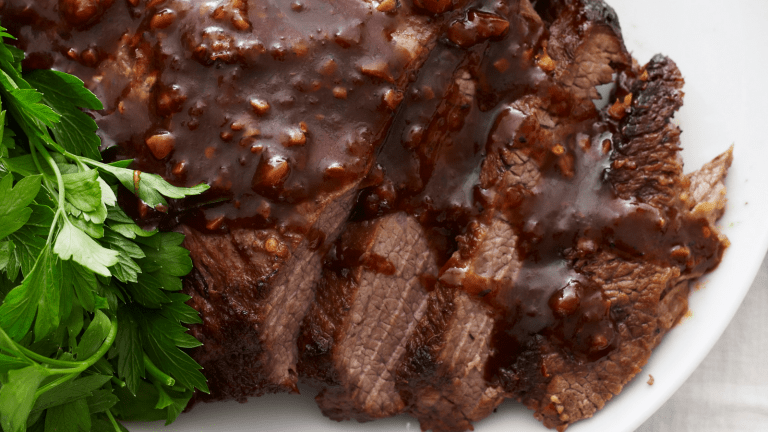 4 Simanim Inspired Quick & Kosher Holiday Menus
There are certain foods called simanim—literally signs or indicators—that are meant to point the way to improved circumstances. Traditional Jews make it a point to eat these special foods (that include spinach, leeks, gourds, cabbage, carrots, pomegranates and dates), preceded by a heartfelt prayer connected to the character of the food. There's even a custom to pray that in the coming year we will be at the head, rather than at the tail end, of good fortune. Not to gross you out or anything, the siman for this is consuming (or at least nibbling) the cooked head of something: fish and lamb are popular choices. To my mind, pickled tongue qualifies for this benefit. Hey, it's part of the head, isn't it? And just a tad more appetizing.
Some of the most fascinating simanim are based on word play. A generation ago, Jews in the Ukraine fed their children chicken livers on Rosh Hashanah because the Yiddish word for livers, leberlach, is homophonous with leb ehrlich, "live honestly." Typically Jewish, isn't it? Even a kiddie snack is a lesson in ethics! And then there is the more contemporary creative "custom" (although I am not sure how widely practiced this is) of combining raisins, lettuce and celery, with the heartfelt wish: "Lettuce have a raisin celery."
Colorful food customs like these come from every corner of the Diaspora, I love this recipe for Sweet Carrot Salad (Featuring the Simanim: Carrots, Cabbage and Honey) it's one dish that includes 3 simanim. It's fun to be creative and see how many of these foods you can work into your meal. I've been told by a quasi-serious rabbinic authority that it's OK to improvise your own simanim, too. So how about ending your Rosh Hashanah meal with a really light, low-calorie dessert, accompanied by the solemn wish, "May the empty calories we eat this year be null and void; may they be like the dust of the earth, and evaporate like dew in the desert!"
So this is where it all comes together.  All the thought. All the planning. The testing. The tasting, the tasting, and the tasting. (That's the best part).  A simanim-inspired menu brings added challenges, but also adds a level of meaning to your Rosh Hashanah meal.  I have been doing this for the past few years, using the opportunity as a Rosh Hashanah conversation starter with my kids during our cooking and prep time together. My guests, my kids, my guests' kids – everybody loves identifying which simanim are on the table openly or "hidden" as an ingredient. Our discussion takes on a special Yuntif energy that only comes with Rosh Hashanah.
I hope you enjoy preparing and eating these simanim-inspired dishes and menus as much as I did creating them.
Which ones will you incorporate into your holiday menus this year?
Menu 1
Menu 2
MORE: Browse Through All Our Rosh Hashanah Simanim Recipes
Menu 3
Menu 4