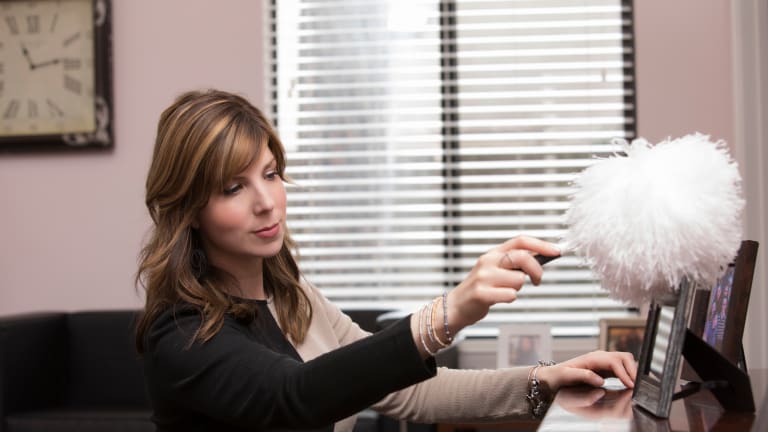 25 Days Until Passover: How to Get Your Kids to Start Cleaning With You
I am probably the last person that should be writing an article about cleaning.  
Truth be told, I pay for it. 
Yup, it's true, I don't really know how to clean.  My mom raised my brother, my sister, and me to be very independent. We cooked dinner for ourselves at least once a week and my younger sister woke us up in the mornings to get ready for school by ourselves. But, I never learned to clean. 
I actually went off to college without knowing how to clean the bathroom and thanks to some apartment mates who chose bathroom over kitchen, I still don't know how to do it well. My husband isn't any better. While he grew up in a house where there was never a crumb or speck of dust to be found, he left with an appreciation for clean, but no know-how.  
Don't let this happen to your kids — time to get them cleaning. If I can do it, so can you. 
I am writing this article as much for me as for you. While I don't believe you have to go crazy cleaning your whole house to find every hidden chametz crumb, I do believe, if not now, when?
While you are already cleaning for Passover you might as well go full spring clean and declutter with these 6 steps. 
1. Plan
Start by planning out when and where you will clean each day and put it on your calendar. Generally, it is best to start in the least used rooms, work towards the bedrooms and bathrooms, and end with the kitchen. 
2. Don't Do It Alone
Don't let your kids or husband get away without helping out. Everyone should be responsible for a space — their own and/or another — but do each room as a group or in pairs. Turn cleaning into quality family time.  
3. Have Fun
Plan some games to make it more exciting. Have a contest to see who can clean the best and rate them on speed, thoroughness, and final results. Hide something like a new toy at the bottom of your kids' closets so they have to clean to find it. Give young kids their own sponge and spray bottle of water and vinegar to clean after you declutter. Play some music and take dancing breaks. 
End the day with a reward, like going out for dinner. 
4. Clear Out
Even though we started this to clean for Passover, we are using it as a way to clean up our home in every sense of the word. Go through everything you own and put them into one of 3 places: neatly in a place they belong, in the trash, or in a donation bag. 
Big tip: If you haven't worn or used it in a year, get rid of it — this applies to everything in your home, even food, spices, and appliances.
5. Get Help
While you must be the one to go through all your closets and drawers it is okay to bring in the reinforcements (cleaning professionals) to do the heavy lifting once you have cleared the clutter, especially if you don't have confidence in your sweeping and mopping skills like me. 
6. Take Pictures
Make sure to take some before and after pictures and share them with us on this post and/or on social media. It will inspire me and others to get moving and cleaning. 
Phew, now that I have written this all out I hope I can follow my own advice, especially the getting rid of stuff I don't use.