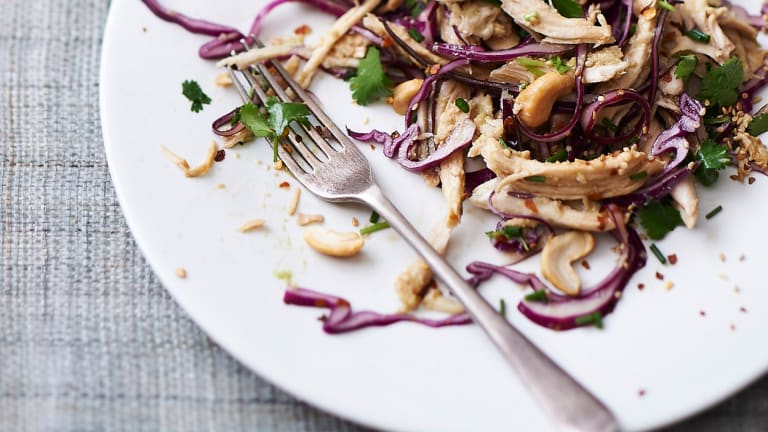 A Meaty Shabbat Menu
In this week's Parsha, Reeh, the Torah expands on the farewell speech Moses is delivering to the Jewish people, saying: "When the Lord, your God, expands your boundary, as He has spoken to you, and you say, 'I will eat meat,' because your soul desires to eat meat, you may eat meat, according to every desire of your soul." A few weeks ago I shared a Vegetarian Shabbat Menu and now this week we have permission to go full on meat, but not heavy. 
This Summery Shabbat menu starts with salads and ends with fruit so you won't feel loaded down when it's so hot outside. It happens to be gluten free friendly too, just make sure to use tamari in place of soy sauce and this menu is a winner for all.
Start the meal with a tangy slaw filled with chicken. Use tamari to keep it gluten free. 
Korean short ribs are actually grilled and not slow cooked, but they still sit well and reheat well and are so flavorful. 
Skip the real rice and try cauliflower fried rice instead, now you have your vegetable and starch side and it feels like you have your starch. I like to go especially light on starchy sides on Shabbat when we always have challah or bread. 
Perfect for the season and keeps the Asian theme going, I am not into meat with dessert, but for those who want some candied facon try Pecan Pie Facon.
For last year's Shabbat Reeh Menu click here.