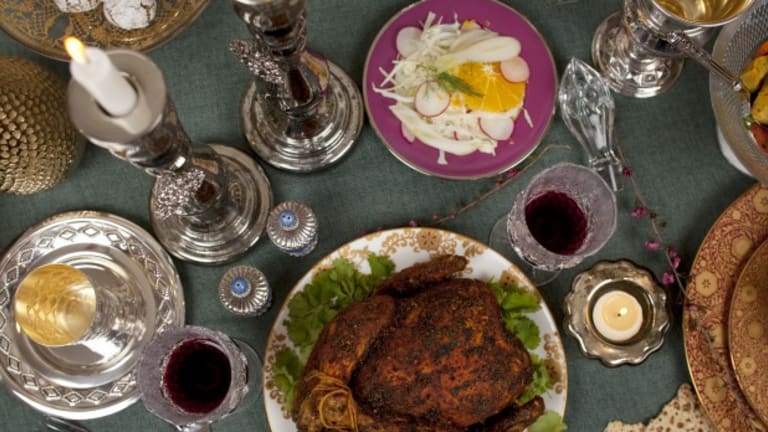 Recipes For A Moroccan Seder
Passover is my gastronomic week.
Luscious spring vegetables and fruit all around us; the best dairy products, fish, meat, poultry, wines.  You call that challenges, restrictions?
I call it a spring thanksgiving feast!
So long blintzes, cereal, rice, pasta, pizza! See you next week, I know you'll still be there!
So, how can we cope? Brilliantly! Deliciously!
Moroccan Cuisine is my first and most enduring culinary love.  Although, I give cooking demos and write my cookbooks on every imaginable theme (all-natural across the board, of course), there is a simple reason Moroccan cuisine is my first and most enduring culinary love. The ingredients are simple, affordable and wholesome, and their integrity always shines through: no gimmicks whatsoever; the preparation steps sometimes so simple as to appear deceptively naïve; the finished dish much more glorious than the modest sum of its parts. Such is the magic of our flavors: bold, assertive, fragrant, guileless: how can you miss?
All the following dishes are excerpted from my latest cookbook, The Whole Foods Kosher Kitchen (except the artichoke and carrot dish, which is excerpted from my first cookbook, Levana's Table).
Menu
Lamb & Dried Fruit Tajine with Almonds

Roasted Chicken in Dry Spice Rub
Artichoke & Carrots in Lemon Sauce
Tomato Salad
Cabbage, Fennel, Radish & Orange Salad
Spicy Nut Truffles
Minted Fruit Salad
Pecan Brownies
Photography by Ruvi Leider