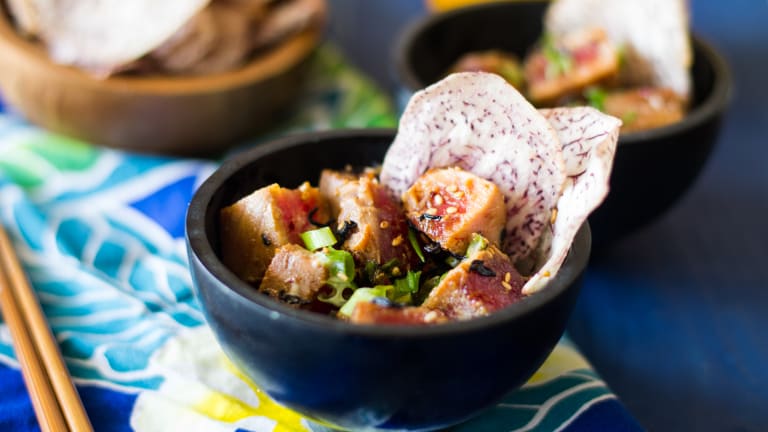 A Simchat Torah Luau
Shaloha (Shalom + Aloha) and Chag Sameach!
Growing up in Hawaii, tropical flavors are year round and even though I live on the mainland now, I am always incorporating the Island essence into every day foods, holidays and parties!
So let's celebrate Simchat Torah, island style!
Mango Pineapple Blintzes are an easy way to infuse tropical flavors. Sweet pineapple and mango topped with shredded coconut and if you can find it, smear a bit of guava jam into the blintzes too. 
MORE: A Hawaiian Shabbat Luau Menu
SEARED AHI POKE WITH HOMEMADE TARO CHIPS 
A true Hawaiian classic, you can find dozens of different styles of poke all throughout the islands. My favorite and the most traditional is ahi (tuna) and is simply seasoned with soy sauce, sesame oil and green onions. Serve pupu style (appetizer) with baked crisp taro chips. 
This cocktail is a play off of the luau's most popular drinks, mai-tai. This fun spin has both mango and guava juice and is sure to help celebrate a fun holiday luau!
MORE: 5 Simchat Torah Menus
Want stories like this delivered right to your inbox? Sign up now for our *free* JOY of KOSHER Newsletter.