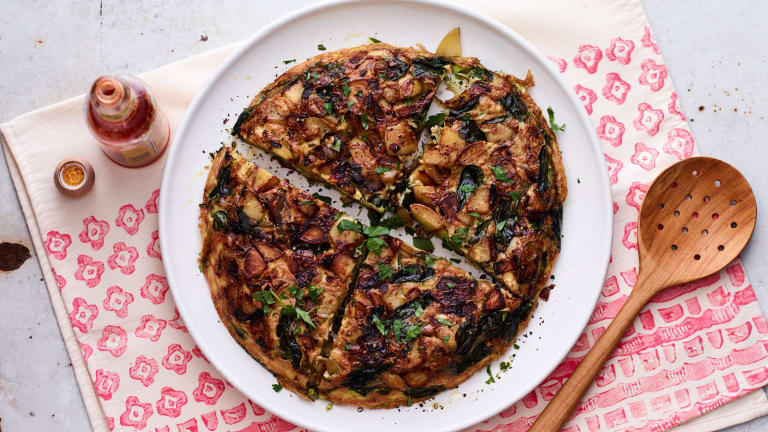 A Vegetarian Menu of Tapas And More For Purim
The trend towards a more vegetarian diet is exploding and I like to share vegetarian menu ideas for all our holidays, but Purim specifically is the perfect time to win your friends and family with vegetables.  
Many say that Queen Esther was a vegetarian at least when she was living in the palace.  I say go vegetarian and make make you hamantaschen dairy, there is no sub for butter. 
Even if you are not ready to take the plunge, the majority of this menu is actually parve, but they are a great way to get more veggies and I love a variety of tapas to start any meal.  
My all time favorite Spanish recipe is this Spanish version of a frittata, called a tortilla, which is typically made from eggs and potatoes.  We added some spinach for extra veg and color.  It is perfect either hot or even at room temperature.  
Puff pastry means these tarts can be made quick and easy.  The flavors are simple, but taste extraordinary. 
Fill these little empanadas with any veggies you have on hand, everyone loves these little pockets of surprise. 
Patatas bravas are a Spanish tapas fave, this unique version uses fingerling potatoes and stuffs them with the smokey potato filling. 
In case anyone is still hungry after all the tapas, serve this elegant Paella.  If you can get your hold off a nice paella pan it will look extra impressive. 
For dessert you can really enJOY this Spanish version of creme brulee made with whole milk, but if you prefer to keep it non-dairy coconut milk is a perfect sub.  So much flavor in these creamy desserts, but light enough to save room for hamantaschen. 
For more Purim seudah menu ideas click here.