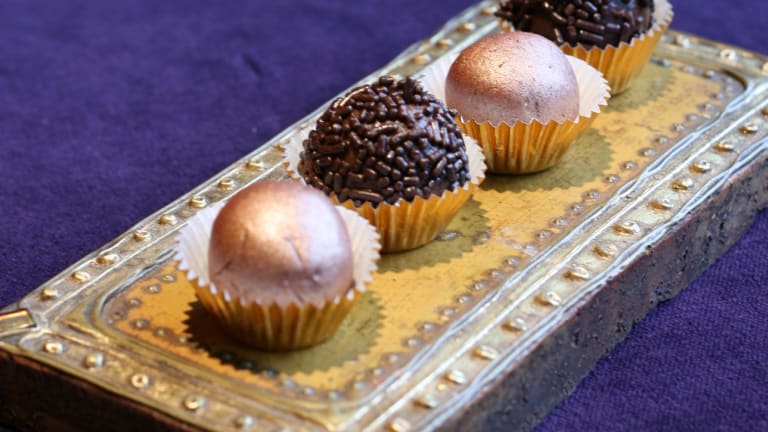 An Elegant Shabbat Menu
Gold and silver can be used to make things more beautiful, to show our love and appreciation, like a wedding ring or a special piece of jewelry.  Or gold can blind us with the idolatry of wealth.  
In this week's Parsha, we have a little of both.  B'nai Yisrael are each commanded to give a half-shekel of silver to help build the Mishkan.  It is a gift from individuals for a holy communal purpose.  But when Moses does not descend from Mount Sinai as fast as the Children of Israel are expecting, the people create a golden calf to worship.  It is a corruption of the very generosity that began our parsha.  
Gold can also be used to elevate a simple dessert to one worthy of your elegant Shabbat table. 
Stuffed Avocado with Seafood Salad
Start your elegant shabbat with a stuffed avocado. Everyone gets their own half and it's just pretty. 
Roasted Veal Shoulder with Chicken Liver Stuffing
Serve a stuffed roast veal shoulder for the main course, doesn't get more elegant than this. 
Serve these potato roses for a pretty side. 
Some simple roast cauliflower to round out this elegant dinner. 
These elegant Chocolate Energy Truffles are a no-bake healthy snack that doubles as an impressive dessert! Arrange them on a fancy plate to welcome incoming guests, or make a batch and munch on them during the week for an energy boost.
Optional: Place a golden raisin or a mulberry inside the truffles and reshape as a sphere. Dip truffles into gold decorating dust for a whimsical look. 
For last year's Shabbat Menu Ki Tisa click here.