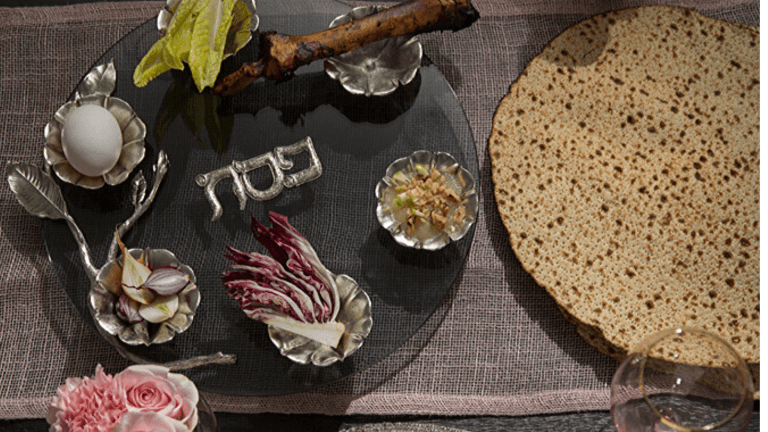 Countdown to Passover: 24 Tips to Help You Get Ready for the Holiday
Do you ever feel like you need a professional organizer to help you prepare for Passover? 
Well, now you've got one. 
To help you prepare for Passover, I've teamed up with Professional Organizer Rivka Slatkin.  Below you will find Rivka's tips for preparing, shopping and cleaning for Passover.  Read it through, take notes, mark your calendars and create your to-do lists. By the time Passover starts you'll be perfectly organized and you will have an entire holiday's worth of fabulous menus ready to go. (And you thought pesach was going to be a chore!)
For those who aren't familiar with Rivka, you can read her organizing tips and techniques at Jewish-Life-Organized.com, the only site by a professional organizer dedicated to getting Jewish lives organized. 
These tips are in order of all the things you should do during the 3-4 weeks leading up to Passover.  So here goes.
#1 - ORDER YOUR PASSOVER MEAT NOW! 
To get out of the starting gate on Passover, Rivka suggests you begin by ordering all your Passover meat now before prices go up.  Now is the time to get the best deals on Passover meat purchases. And the best part is that you don't have to take delivery until closer to Passover. So, if you follow all our Passover prep plans, you'll be ready to rock once the meat arrives from the butcher.
#2 - GET YOUR CLOSETS IN ORDER
Cleaning for Passover can be a chore, but when you take an organized approach to Passover prep things are much less hectic.  Start by organizing and cleaning out your closets. You need to decide whether you'll be doing a thorough Passover cleaning or tackling a complete overhaul. Nonetheless, if you can devote some time to streamlining what clothing fits and what doesn't, you will have a head start on the next step: shopping for yourself and the family to make sure you have new Passover outfits and shoes that fit.
#3 - START SHOPPING FOR CLOTHES NOW
Create clothing size charts for yourself and your family members and then start hitting the sales. Shopping for clothing now will save you money and the headache of rushing around in the days before the seders.
#4 - ESTABLISH A PASSOVER CENTER
Start your Passover cleaning. That way you can set aside a chametz-free area to store all your Passover purchases.  This first phase of Passover cleaning begins in the living and storage areas—bedrooms, guest rooms, closets, etc. Clean the upstairs rooms from back to front starting with the closets and storage centers in each bedroom, such as drawers and bureaus. This way you can be certain that these areas are chometz free and they can potentially be used to store items as you clean other rooms in the house.
#5 - KITCHEN INVENTORY
If you have prepared for Passover before, look over your Pesach kitchen inventory and determine what kitchenware and cooking tools you need to buy or kasher for Passover. If this is your first Passover, everything that you purchase now will go into your Passover kitchen inventory. Designate a separate place in your basement or kitchen cabinets to store all your Passover wares.
#6 - START YOUR PASSOVER FOOD SHOPPING
Start shopping for Passover non-perishable foods.  Designate a separate pantry on the main floor to store non-perishable Passover grocery items so you can start Passover shopping early. If you don't have room to create a separate pantry for Passover food, start to move your chametz foods out of your newly-assigned Passover food area. Keep some grocery bags lined up in a hallway or dining room to store chametz so that everyone knows this food is not going back into the pantry. The pantry is now reserved for Passover non-perishables like matzo, which you should buy now (a few weeks before Passover). Now is also the time to familiarize yourself with items and brands that are kosher for Passover year-round, so you are not limited to expensive Passover brands.
#7 - BUILD UP YOUR PASSOVER KITCHEN INVENTORY
Continue building up your kitchen inventory and Passover non-perishables including paper goods, kitchen lining supplies, aluminum tins, paper napkins and kitchenwares like cutting boards, pots and pans.
#8 - SET UP A PASSOVER MINI KITCHEN
Don't wait till the morning of the first seder to start cooking for Passover. Set up a Passover mini kitchen.  Create a mini Passover kitchen in the basement or laundry room with a slow cooker, a few knives, cutting boards, some spices, aluminum tins and a freezer. This way you can pre-cook some Passover meat dishes and freeze them for use during the holiday. You will need a sink, but you could even use the laundry sink for this purpose!
#9 - MAKE NECESSARY APPOINTMENTS NOW
Those carpets won't clean themselves. Take care of personal and home-related appointments now.  Make all of your personal and house-related appointments that need taking care of before Passover such as carpet cleaning, home repairs and dry cleaning.
#10 - CLEAN UP TIME!
About 10 days before Passover is the time to really clean house and stop shopping for non-Passover foods.  Clean the dining room breakfront, the fridge and the freezer, designating one non-Passover food area. Stop shopping for chametz. Now clean other areas of the house like laundry rooms, offices, hallways, bathrooms and tape areas up to keep them chametz free. Many of these are low-traffic areas with little chametz contact, so deep cleaning may not be necessary.
#11 - KOSHER FOR PASSOVER SNACKS ONLY
The time has come to stop handing out chametz snacks when kids come clamoring. Begin giving kids only kosher-for-Passover snacks. If you stick to fruits and veggies it will be easy.
#12 - FINISH CLOTHES SHOPPING
That's it!
#13 - CLEAN THE CAR
Think your house is dirty? Check out your car; now may be the time for a professional car detailing.  I personally like to have the cars professionally detailed at least once a year and now is the perfect time.
#14 - PLAN MEALS
Don't leave Passover dining to chance, plan Passover menus in advance and don't stop with the seders, it's an 8 day holiday after all.  Create Passover meal plans using our Passover Menus and Passover Recipes as your guide. Also, check out our guide on how to plan your Passover menus. 
#15 - BUY PASSOVER PERISHABLES
Stick to your meal plans when shopping for Passover perishables. Shop for Kosher-for-Passover perishables using the meal plans and lists you created and store everything in your newly-cleaned refrigerator.
#16 - THE BIG CLEAN
Your fridge is clean; now it is time to clean the rest of your kitchen for Passover.  Clean your kitchen including appliances, cabinets, chairs, countertops, floor, garbage cans, highchairs, oven, phone, sink, stovetop, table and windows. As with all cleaning projects, starting from high places and moving down makes cleaning easier.
#17 - MAKE YOUR KITCHEN A PASSOVER-ONLY ZONE
The time has come to make your kitchen kosher for Passover.  Begin making your kitchen kosher for Passover by covering your counters, cleaning your oven, lining your shelving and putting out your Pesach dishes.
#19 - GET YOUR VACUUMS RUNNING
It's now or never! This is the week (a week before) when all your Passover prep comes together. This is the final cleaning phase and your vacuum cleaner is going to be running all week long! Go over all the bedrooms, living spaces, offices, the dining room, kitchen—every possible area that needs to be vacuumed.
#20 - COOKING AHEAD
There are a lot of meals on Passover. It is time to get cooking.  Begin to prepare and cook foods that you prefer to refrigerate rather than freeze.
Find 36 Make-Ahead and Freeze Passover Recipes here. 
#21 - SPRINT TO THE FINISH
Preparing seder plate items in advance will make the day of the first seder less stressful. When the seder is less than a week away you can start preparing for the Seder plate.  Don't save this for the day of the first Seder. I promise your Erev Pesach will be much more relaxed if you don't! Check out my Seder Plate Checklist here.
#22 - PRE PASSOVER SHABBAT
The Shabbat before Passover is often best to make with only kosher-for-Passover foods, except maybe some store-bought challah to start. Either way, eat in the dining room on plastic so that after Shabbat the tablecloth is literally thrown out the door. The dining room should be the last room you change over for Passover.  If the weather is nice, it's also great to eat on the deck.
Hopefully, you followed this guide and there shouldn't be any hair-tearing moments of panic coming your way. 
#24 - WE MADE IT! SET THE TABLE. 
Setting the table is all that's left. Passover is ready to start and you're calm, cool and collected.
Can you believe it? The final changeovers are done and, since we're all basically ready (hurray!), the last tip is a simple one that can be taken care of the day before or the morning of seder.  
Set up guest areas and set your seder table with the seder plate checklist.
For more detailed plans on how to make Pesach Perfectly Organized, please visit www.Jewish-life-organized.com and take a look at the Yom Tov Perfectly Organized Collection, written by Rivka Slatkin, Professional Organizer.