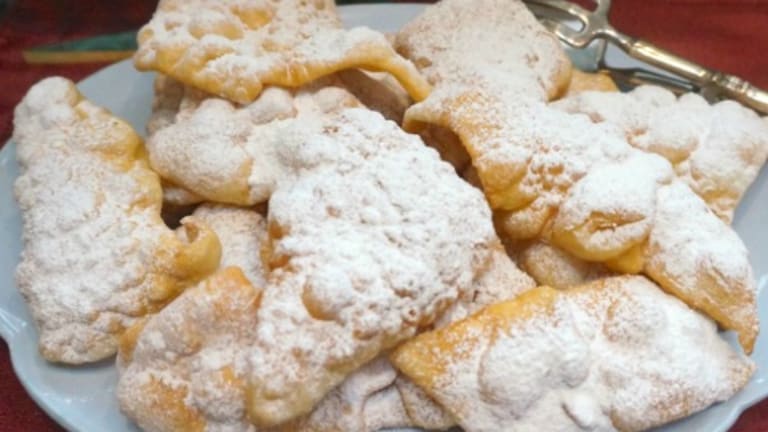 Easy Fried Sweets For Chanukah
Ah, Hanukkah! It's all about the fried, right?
Well, of course it's about much more meaningful events, but when it comes to the food part, it's all about the fried, to commemorate the oil found by the victorious Maccabees when they went to rededicate the Temple.
Fried is one of our family's favorite foods. Chicken, latkes, onion rings, you name it, we like it fried. Messy, labor-intensive, not-your-healthiest, makes-your-kitchen-smell-awful fried.
Of course we don't have it very often, but on Hanukkah fried food is a must, and it makes our already joyous and festive freedom celebration that much more indulgent and enjoyable.
I make latkes, naturally. It wouldn't be Hanukkah without those.
ROSEMARY MASCARPONE POTATO LATKES
Try these delicious latkes with the addition of rosemary and mascarpone you won't know what hit you. 
I make doughnuts too, but not the big ones. We prefer small doughnut "holes," made with choux pastry, the kind you use to make cream puffs, gougeres and profiteroles, only instead of baking the dough as I do for those pastries, I fry it in small blobs. These Lemony Choux Doughnuts go down easy, take minutes to make and don't require waiting for yeast dough to rise or rolling out dough or anything involved like that.
We like plain doughnut holes. I add a hint of refreshing lemon peel to the dough and a coating of cinnamon-sugar or confectioners sugar on the crust. But you can add raisins, cranberries, chopped nuts and such to the dough if you wish. Yum. 
This year I am adding another fried dessert to our menu – my mother's Kichels. I haven't made them in years. It's time. They'll give us yet another reason to remember Nana and her special ways and her special treats. And her recipe is very easy.
The big trick for fabulous Kichels is rolling the dough as thin as possible. It takes some time and patience, but the result -- crispy, puffy, delightfully light cookies with just a sprinkle of sifted confectioners sugar – is so worth it.
A few more of my favorite fried foods...
These are delicate and fluffy, a nice contrast to heavier potato latkes. And the lemon gives it a refreshing flavor. 
CHICKEN FRIED PORTOBELLO STEAK
Last, but not least is this fried portobello to mimic fried chicken steak. The perfect breakfast for dinner this Hanukkah. 
Here's a hint for all Hanukkah fry-chefs: 
Make a homemade pot of potpourri and keep it going on the lowest flame. I crack 2-3 cinnamon sticks, add the peel of one orange, some whole cloves, allspice berries and cardamom pods, cover them with water, heat it up and keep it at a simmer for hours. That's all there is to it. It not only gets rid of the fried smell, it adds a lovely, fragrant winter holiday fragrance to your house. You can keep adding water; potpourri will last for about a week.