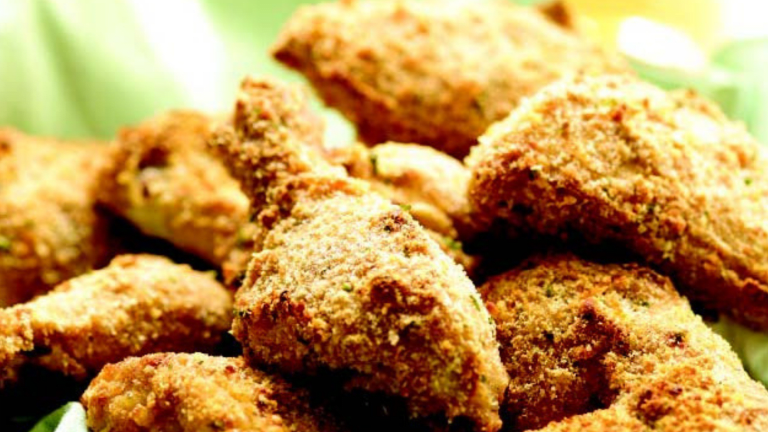 Fresh and Healthy Southern Menu
The courtship of Rebecca is remarkable to watch unfold.  In this week's parsha, Abraham makes his servant swear to find a bride from among his kinsmen and Eliezer meets a most appropriate match with the beautiful and kind daughter of Abraham's brother, Nahor.   Eliezer consecrates the auspicious meeting by giving rings and bracelets to Rebecca.  And after the marriage proposal is accepted by Rebecca's family, an engagement party is enjoyed by all.  The Torah notes the silver and gold bestowed on Rebecca and the delicious fruits given to Rebecca's brother and mother.  So to celebrate this happy occasion, we take inspiration from Eliezer with a dessert featuring Bacardi Silver Rum and golden pineapple for a most delicious Pineapple Upside Down Cake.
Start with a hearty lentil soup with lots of flavor and warming as the temperature starts to drop. 
Southern fried chicken, but baked in the oven is always a crowd pleaser.  Doesn't hurt that it's easy to make and can be served hot or room temp. 
Black Eyed Peas and Green Beans
A Southern meal is not complete without some black eyed peas.  These little guys are highly underrated, give it a try and see how much flavor they offer on in this one pot veg and starch side. 
This classic Southern dessert features the pineapple, a symbol of Southern hospitality, it's the kind of cake you make for your most special guests on your most special dinners.  
For last year's Put A Ring On It Shabbat Menu Click here.
Want stories like this delivered right to your inbox? Sign up now for our Jamie Geller weekly newsletter.