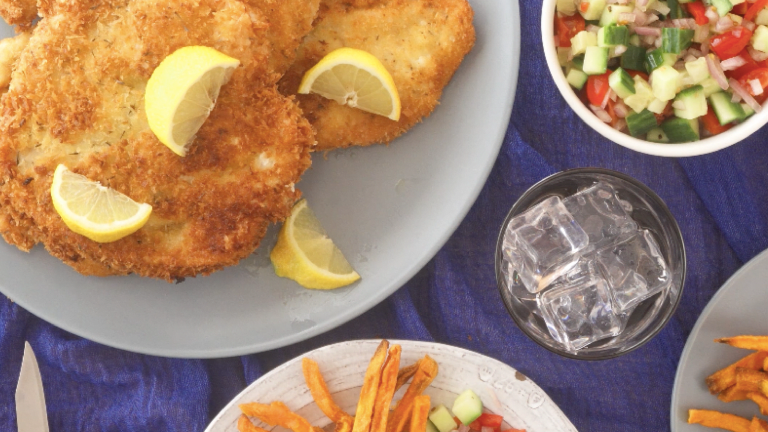 How To Eat Schnitzel Like an Israeli Shabbat Menu
Most Israeli's make schnitzel on the daily or at least as a weekday staple. In our house schnitzel is shabbos food. I know it's not fancy schmancy but I don't have the zitz fleisch, literal translation "sitting meat" - actual translation, I have "NO patience to sit there" and fry on a weeknight. So that's how schnitzel came to be our shabbos treat. And also cause it's pretty good cold and at room temp. (Though you won't hear me argue that there ain't nothin better than hot fresh schnitz right outta the pan.)
So what do you serve with Schnitzel?
Well first there's the question of what to dip it in. Ketchup or mayo? Tahini or Herbed Honey Mustard?
We even asked this question on Facebook, click below to see the range of answers.
Then comes the discussion of what to serve alongside it. 
You can be uber posh and serve it like they do Veal Milanese with an arugula, red onion and tomato salad + fresh lemon squeezed over everythang. 
Or you can get a little more classic and plate it up with some chopped Israeli Salad. Chips which is hebrew for fries is what my kids prefer on the side. Truth be told - so do Hubby and I.
Bottom line, Cholent, Chips, Schnitzel and Salad = the perfect Shabbos lunch for the entire family.