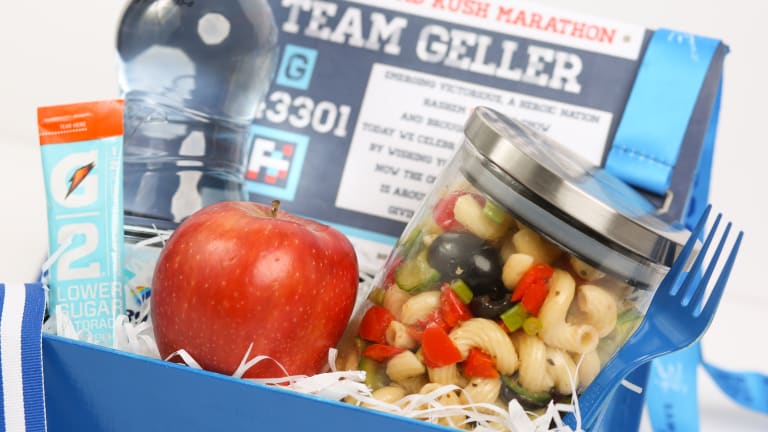 Marathon Theme Mishloach Manot
We love themed Mishloach Manot and we know you do too. Mishloach Manot are the food baskets we give to our friends and neighbors as part of the celebration of Purim. 
Many people include hamentaschen in Mishloach Manot.  They are the most popular and known Purim treat, but there's no law that says that hamentaschen must be included.
You do need to include at least two different items, so we came up with a few ways to make easy mishloach manot with a marathon theme. 
You can simply buy your favorite sports drink (or cheaper: sport water bottle and powder packet if you are making 100+ like us) and package together with an apple or banana and call it a day. 
Sort through all our Mishloach Manot themes here. 
If you are the type that likes to go all out then have I got some ideas for you! Including the marathon bib as your card helps bring the theme together. 
Download a customizable printable marathon bib card here. 
People crave food on Purim day. Pasta Salad is a comforting and appreciated deviation from the junk laden mishloach manot and just want runners require before a race.
Just add water to this Homemade Oatmeal Packet for a warming treat full of healthy carbs this Purim.
These bites satisfy the sweet tooth with the side benefit of extra energy -- on a day we need it most!
Granola is a crunchy and satisfying grab-and-go addition to our marathon themed mishloach manot.
BTW which messaging do you prefer?
Long
Emerging victorious, a heroic nation
Hashem RAN the show and brought our salvation
Today we celebrate this MARATHON WIN, by wishing you all a joyful Purim
Now the only RUNNING we'll do, is around the neighborhood giving משלח מנות to you
Short
Purim is a tale of VICTORY
A MARATHON WIN in history
Hashem RAN it all, an OLYMPIC feat
And now we RUN around giving you משלח מנות to eat!
Longer or shorter? Let me know in the comments below. 
HAPPY PURIM!
Don't miss our costumes, check out our Marathon costume and all our last minute family costumes here.