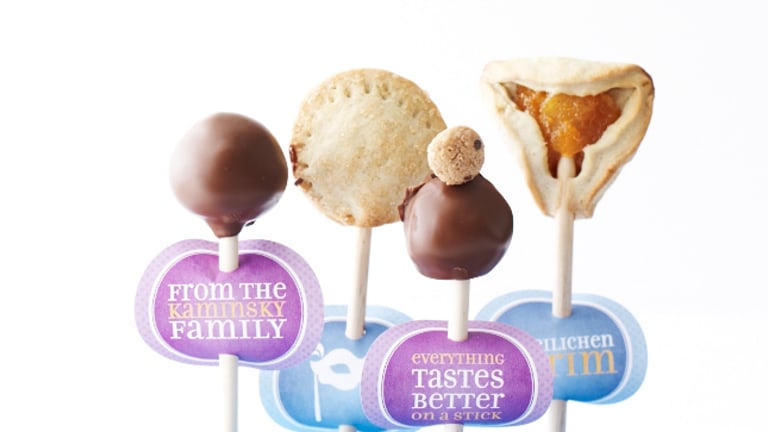 Perfect Ideas for Easy and Beautiful Mishloach Manos
The Recipes + The Packaging + The Downloadable Purim Cards - We have taken care of everything with your busy lives in mind, all you have to do is choose a theme.
Every year, when it's time for me to plan what I am going to create for my mishloach manot, I go to the huge Dollar Power store that's a few minute drive from my home. I walk around and around the aisles, looking for the item that will inspire me. I'm not looking for a container or basket—but something out-of-the-"box." 
Last year, it was the picture frames you see below. There was a whole aisle of frames, in different sizes and styles. Even though I usually prefer modern styles, this time I loaded up my wagon with the most ornate detailed frames (including the one in the photo)—those definitely didn't look like they cost one dollar! The frames were repurposed as trays and wrapped up in cellophane with grosgrain and pearls.

I have compiled these recipes and mishloach manot concepts making sure all of the recipes can be prepared in advance and all of the packaging is accessible.   Still you should find what is most interesting at your dollar store this year and work it into a great mishloach manot, just like these. 
Read on for more inspiration and ideas for your own mishloach manos. Happy Purim!
Mediterranean Inspired
The savory tastes of Israel are packaged inside this bright, happy, and very functional mishloach manos.
What's Inside:
Spiced Pita Chips & Tri-Color Chummus
Packaging:
Colander and Ball Jars
Breakfast is Served
"The trick to making this look really beautiful," Felisa said about the hot cocoa mix, "is to layer the ingredients so that it resembles sand art.  Print the instructions and tie them with a ribbon onto the mix so your recipients will know what to do."  We rounded out the breakfast concept with a not-so-sweet option: English muffins. 
What's Inside:
Cinnamon Buns, Hot Cocoa Mix & English Muffins
Packaging:
Picture frames repurposed as a tray
Glass canisters
Visit your local discount or dollar store for similar products.
Download and print the Purim cards, available in both the 5 x 7 and 8 x 10 sizes, in Hebrew and English:
Tie up the whole tray in cellophane and seal with a grosgrain ribbon bow.
Giant Cookies in Cookie Purses
These cookie purses are adorable for children's mishloach manos. They're actually made from CD sleeves—perfect for a cookie that's 3.5 to 4-inches wide, depending on the thickness. We needed giant cookies to match! 
This is the only mishloach manos that needs a tiny bit of crafting. I glue-gunned the grosgrain ribbon to the cases, and covered the edges with cute buttons. I've made Nechama's fudgy kokosh cookies (inspired by the traditional Jewish kokosh cakes), again and again…the ingredients are simple, but very special!
What's Inside:
Orange Creamsicle Cookies & Kokosh Cookies
Packaging:
Multi-Color CD Sleeves
Grosgrain ribbon
Large bag of assorted buttons
Black & White
Keep your mishloach manos chic and simple with black and white treats punched up with animal prints.  Gift the popcorn in a glass vase. I chose a zig-zag vase to carry through the zebra theme—and, of course, it coordinates with the very trendy zebra cake.
What's Inside?
Gourmet Chocolate Popcorn
Vanilla Bean Popcorn  
Zebra Cake
Packaging:
Animal print salad plate
Zig-zag vase
On a Stick
Pick one or mix-and match your favorite treats for a mishloach manos that's very fun to create and eat.  To make cake pops easily, you can buy a Cake Pop Kit.  For hamentaschen on a stick, use your favorite hamantashen recipe with your choice of filling and insert the stick after your hamantaschen are already assembled, but before baking.
What's Inside?
Chocolate Mint Chip Pop
Maple Pecan Pie Pops
Cookie Dough Pops
Hamantaschen on a Stick
Packaging:
Large bowl
Insert a covered foam block into any bowl, dish, or container.
Download and print the cake pop tags:
We used a 2-inch jumbo hole punch from Michaels to easily cut out the circles.
Double Dipping Pretzels
Your friends will thank you for this filling, snack as they shuffle around with their bags of treats all day, it will be nice to have something satisfying to eat and with one dip being rich dark chocolate and one a tarragon mustard, you can satisfy any craving.
What's Inside:
Whole Wheat Soft Pretzels with Two Dipping Sauces
Packaging:
Decorative box or basket lined with reusable towel or napkin. 
Fill two small jars with sauce and attach a card to bamboo spoon/spreader.
Cards Designed by Esther Silverstein of ESDesignGroup.com