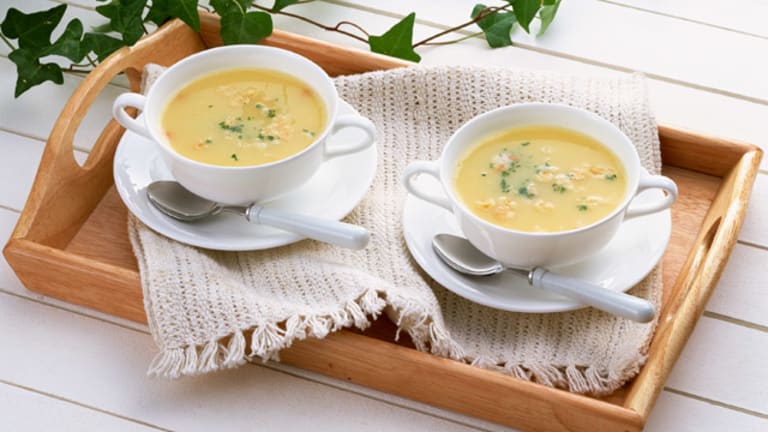 A "Split" Pea Soup Shabbat Menu
The newly emancipated Hebrew slaves flee Egypt while Pharaoh and his army follow close behind.  Arriving at the Red Sea, the Israelites face a choice.  Turn back? Go forward?  Moses raises his staff and the waters split in two.  According to our Midrash, all the waters in the world divided.  In jars, cups, bowls and the heavenly waters, as well.  For our Shabbat menu this week, it is only fitting to start our meal with a Souped Up Split Pea Soup.
This is souped up because we use both green and yellow split peas and add butternut squash puree for extra color and nutrients.  
After the soup, I started thinking about a pastrami deli sandwich, but it's Shabbat dinner, so let's roll up our pastrami in chicken, bread it and bake it, for the perfect Shabbat dinner entree. 
And what goes with a deli sandwich? Slaw of course. 
Some roast potatoes made accordion style fo ra cross between a baked potato and potato chips is the perfect side. 
Let't stay with our Jewish deli themed menu and serve black and white cupcakes for dessert, of course you could just pick up some black and white cookies and try making a dairy free egg cream by combining 2 tablespoons chocolate syrup with 2 tablespoons dairy free milk in a tall glass.  Top with 3/4 cup seltzer, stir well and serve immediately. 
For last year's Shabbat Beshalach Menu click here.