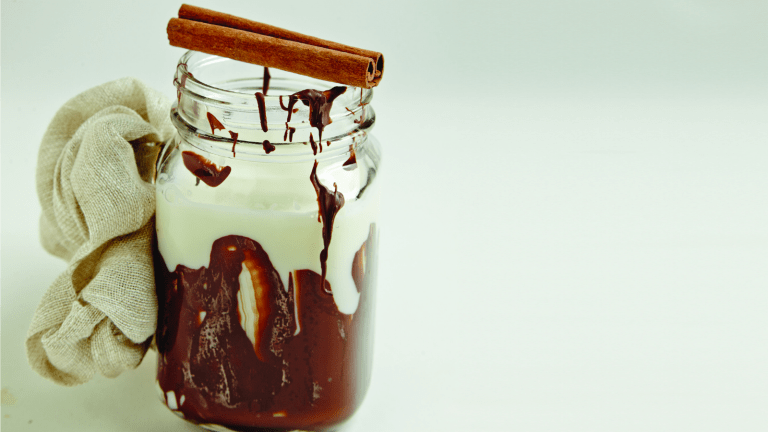 Hot-Shickered Cocoa for Sufganiyot
I just love Chanukah.  I never tire of the candles, the songs, the family togetherness, and, of course, the foods and drinks.  
Some of my best eating memories surround this holiday, both from my childhood and from when my own kids were little. (From my childhood, I actually have positive associations with all the mess and smell and grease that comes with fried foods!) As an adult, I have been known to serve latkes 8/8 nights and even to volunteer to make latkes for many of my friends so that they can keep their stovetops clean and odor-free. 
People have told me that they can follow their noses to my house that time of year...and we have always enjoyed serving our grown-up guests everything from iced vodka to chilled champagne to aid in the fun. But with all that attention on potatoes I never got into sufganiyot, which turn out to be the most popular Chanukah treat of Jews in Israel and around the world! Seems that Jews have been eating some form of sufganiyot since the first recipe for "Gefulte Krapfen" was published in Germany in 1485. At first filled with savory goodies, the more familiar sweet jelly doughnuts we have come to know spread across Europe in the 16th century. Their popularity (enhanced by the support of the Histadrut, the Israeli Labor federation, which pushed for doughnuts over latkes in order to provide more work for its bakery members) culminate in the annual Israeli sale of over 18,000,000 sufganiyot before and during Chanukah. Which leads me to the obvious mixology question: 
What can they possibly be drinking to wash down all those doughnuts?!? 
My inspiration for the following warm and cozy cocktail comes from the Spanish custom of eating fried churros together with a thick cup of pudding-like hot cocoa. If you think fried "Churros con Chocolate" sounds like an amazing combination, wait til you try fried "Sufganiyot with Hot-Shickered Cocoa"! Chag Chanukah Sameach! 
HOT-SHICKERED COCOA FOR SUFGANIYOT
Want more recipes delivered straight to your inbox? Sign up now for the JOY of KOSHER weekly newsletter.