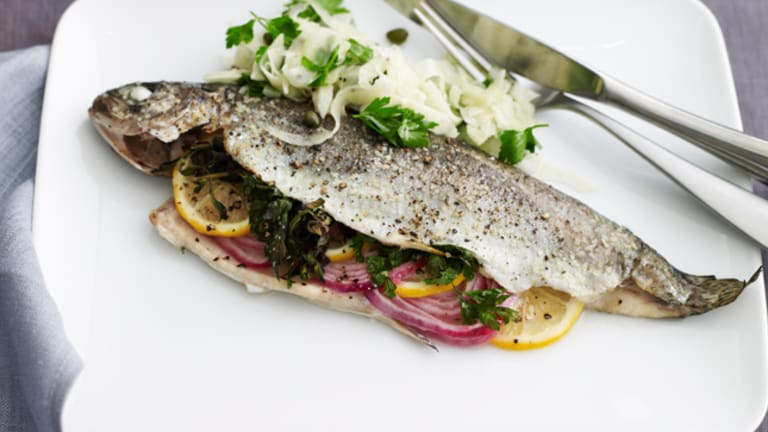 The Scales of Fish Shabbat Menu
Jewish lawyers of the world unite in celebrating this week's parsha, where Moses instructs the people of Israel to appoint judges and law enforcement administrators in every city. "Justice, justice shall you pursue," Moses explains, without corruption or favoritism to the rich or powerful.  In my mind, I think of the scales of justice in perfect balance.  On my plate, I think of the scales of a delicious baked trout – dressed up for Shabbat with a light fennel salad.
THE WEEKLY CHALLAH
Start this lighter Shabbat menu with a layered gorgeous appetizer using potato pancakes and colorful veggies for an elegant presentation. 
Mediterranean Baked Trout with Fennel Salad
For the main course we are serving a whole roast fish, a nice change of pace for this Summer Shabbat menu.  If you're not used to eating whole fish go ahead and serve fillets, but there is something special about a whole fish. 
Couscous Salad with Baked Tomatoes and Asparagus
A simple couscous salad on the side is all you need to round out this meal.
The best part about fish for Shabbat dinner is a dairy dessert. Simple pick up some prepared ice cream sandwiches and add a some nuts and strawberries to make them feel homemade.  Of course if you're in the mood you can make your own ice cream sandwiches. 
For last year's Shabbat Menu for Parsha Shoftim click.