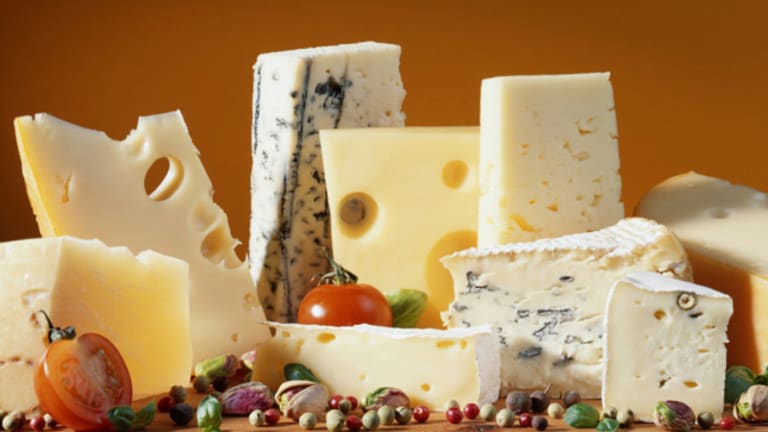 Tu Bishvat Cheese Course
I love serving a fabulous cheese course for Tu Bishvat, no matter when it falls or what is going on I always find time for cheese, even at breakfast.
A breakfast cheese course is not really that far-fetched. I mean all the food is already prepared so you can serve it up quickly, no cooking involved. Add a salad and some great crusty bread and you have an easy breakfast or brunch ready to go. 
For Tu Bishvat add some dried fruit, grapes, fig or date jam, and you have an elegant cheese course perfect for the holiday.
The secret to the cheese course is variety! 
Traditionally, cheese courses have at least three different types of cheese including a soft-ripened cheese like Brie or Camembert, a hard, sharp cheese like Cheddar or Parmesan and something really robust (i.e. stinky) like Danish blue cheese or goat cheese. If this selection isn't to your taste or you can't find everything on the list, serve whatever you like and is readily available. Handcrafted mozzarella, sheep's milk feta, kashkaval, Gouda, Muenster, Monterey Jack—choose whatever cheeses you and your family enjoy. Finish your plate with some grapes, almonds or walnuts, some dried apricots and you're done!
If you want to round out this meal, add a salad like this Biblically-Inspired Salad or an Israeli Salad. Crusty French rolls, sourdough bread or challah (call it "brioche" if you want to be fancy about it) represent the wheat in the seven species. 
You can leave it at that or add a side dish like my 7 Species Kugel, Tabbouleh, a salad made from bulgur wheat and chopped parsley, and dressed with olive oil and lemon juice also works well.
There you have it. The perfect Tu Bishvat cheese course and an easy breakfast or brunch, to boot. A new Tu Bishvat tradition is born.
What are your Tu Bishvat traditions?