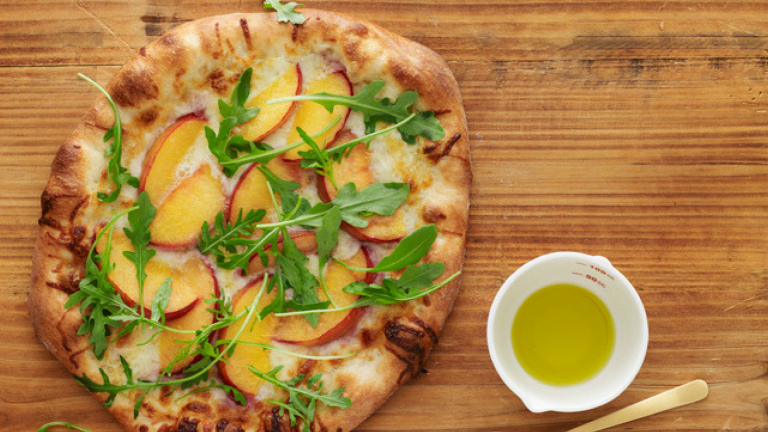 15 Summer Pizza Night Ideas
It all started about 7 ½ years ago when I met Hubby. As a bachelorette on a perpetual diet, my go-to foods were salad, fruit and yogurt. Bachelor food looks more like a slice (or 2 or 3) of pizza daily -- could be for breakfast, lunch, dinner, or all three.
So as a cultured pizza connoisseur, my Hubby-to-be introduced me to pizza shops all over New York: the good, the great, and the fabulous, along with running commentary on the specialties of each. I discovered that a NY pizza shop is so much more than just plain pies. It was almost surrealistic to experience, for the first time in my life, fries and onion rings, fried eggplant, and even salad on a pizza. I pretended especially to go for the salad pizza, but -- confession time – I loved loved loved those onions ring pizzas and all the rest!
Plain pizza is so yesterday, I concluded. And since that time, I've got to have my slice dressed up, piled with everything, as though it's going to the pizza party of the year.
Of course, now I make my own. There's no point to standing in line at the pizza place, when it's so easy to do it yourself. So, in honor of summer I have developed some amazing pizzas for you that are healthy, quick and oh-so yummy. Some are even fleish! Now you ain't gonna find those at your local pizzeria, no matter how creative they get.
First up, Onion Lovers Pizza – eat this with those you love and serve Listerine for dessert. This one takes the prize for color: the red onions give it a real splash, and combined with shallots, Vidalias and chopped chives, it's a sure winner.
Individual Moroccan Meat Pizzas are courtesy of my friend Anita. I love her for lots of good reasons, but I confess that this recipe is one of them. They're sweet and savory all in one bite.
Here's a little shocker: Mediterranean Hummus Pizza ! Now, now, don't make a face; it's truly a work of art. Combine those peppers, olives, feta, hummus and spices and you'll feel as though you're sitting on a balcony overlooking the Mediterranean, a glass of vino in your hand….
It's hard to outdo the local pizza shops that may have won a few awards for creative combos, but I've never seen them put potatoes (that's not fried) or avocado on a pie – so I thought I should be the first! As you may well know, as I tend to repeat myself like a very very (did I say very?) broken record, but I believe that avocado is one of G-d's gifts to this world. My goal, before 120, is to try it on everything. Hey, I just saw Martha (as in Stewart) put zucchini ribbons on a Bundt cake, so why not throw avocado on a pizza? Heavenly!
Try this super summer concoction next: Peach and Arugula Pizza. It's not too sweet -- as the arugula has a bit of a bite – but it's summer perfection in a pie, if I do say so myself.
And then for the Quick & Kosher kings and queens out there -- my lazy Margherita English Muffins – so simple even the kids can do it. Just split store-bought muffins, sauce 'em and cheese 'em and bake 'em. See – easy as pie! (Sorry 'bout that, couldn't resist.)
So while we're having this easy, peasy pizza party -- I have two quick flatbread recipes for you to try too: Plum and Goat Cheese Flatbread which is made on a French baguette. Voila, it's an entire meal!
And then it's back to Italy, with my non-dairy Pesto Chicken Flatbread Pizza made on a ciabatta roll (delish in an open-faced pizza sandwich.)
All of these pizzas are ready for your tummy (and other waiting tummies) in 30 minutes or less.
What's your favorite pizza topping?
Browse through all 15 pizza ideas and let us know your favorites below. 
Better Than Take-Out