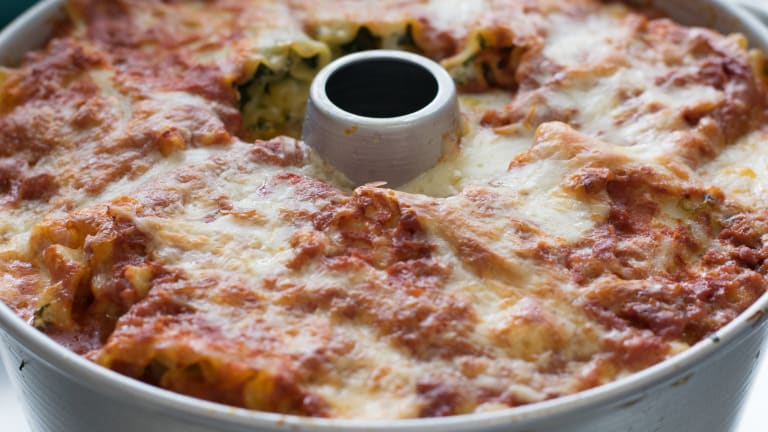 Bundt Pan Lasagna
Cheesy, mouthwatering and delicious, you will certainly feed a crowd with this cold weather, comfort food favorite.
Make sure to use a great quality extra virgin olive oil. We love Colavita!
Duration

Cook Time

Prep Time

10

Servings
Ingredients
4 cups grated mozzarella
1 pound ricotta cheese
2 eggs, whisked
½ cup chopped flat leaf parsley
2 cups fresh or frozen (thawed) chopped spinach, (all moisture squeezed out if using frozen)
Kosher salt
Freshly cracked black pepper
2 pounds lasagna, cooked al dente and shocked in cold water
4 cups homemade or jarred tomato sauce
2 tablespoons extra virgin olive oil, such as Colavita
Preparation
1. Preheat oven to 350°F. Grease a 14-cup bundt pan with evoo.
2. Schmear 1 cup of tomato sauce on the bottom of bundt pan.
3. Mix together mozzarella ricotta and parmesan cheeses. Add eggs, parsley, spinach and season with salt and pepper.
4. On a cutting board lay 1 cooked lasagna noodle down and schmear with 3 tablespoons of cheese mixture. Roll up noodle and place, rolled side down, in greased pan. Continue with remaining noodles until 1 layer is complete. Drizzle 1 cup of sauce over rolls.
5. Add another layer of noodles and drizzle with sauce. Continue layering until all noodles, cheese and sauce has been used.
6. Cover with foil and bake at 350°F for 40 minutes. Uncover and continue baking for another 15 minutes until golden brown and bubbly. Remove from oven and allow to sit for at least 30 minutes before inverting on a serving platter.
Want recipes like this delivered straight to your inbox? Sign up now for Jamie Geller's Weekly Newsletter.