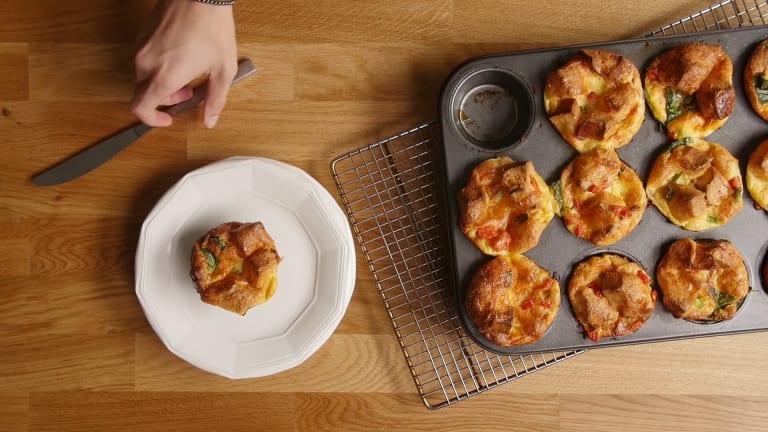 Cooking With Kids - Mini Stratas
Perfect for Sunday Brunch!
After a hectic week of rushed mornings, why not take advantage of slow Sunday morning? 
Try cooking brunch together and devouring a gourmet meal that everyone helped create. Stratas may be the key.
A strata is a layered casserole dish that's perfect for brunch and works well year round. Mini stratas are an easy way to feed the entire family without short order cooking. Everyone, including your youngest, can help prepare their own fillings. You can also store the leftovers of this high-protein dish in the fridge for hectic weekday breakfasts. Your delicious four-star strata will puff up in the oven like a soufflé and can be enjoyed warm or at room temperature. This recipe can be made in stages: you can make the fillings the day before, then assemble the stratas the next day, and let them rest in the refrigerator for 2 to 4 hours. Each filling recipe creates enough for 6 ramekins.
Kid Tips!
Small kids can participate in the preparation by cutting the bread, zucchini, or pears with a butter knife, mashing the sweet potato, scooping ricotta, and sprinkling cheese.
Get creative with your stratas!
Use six ounce ramekins to make personalized mini stratas with a variety of savory and sweet fillings: zucchini, sweet potato, pumpkin, pear, and apple.
For high puffy stratas, don't grease the sides, only the bottoms.
Assembly
Each family member can customize their own strata:
Place ramekins on a rimmed baking sheet lined with parchment paper or aluminum foil (the stratas may overflow). 
Place 1/4 cup, about 8 bread cubes into each of the six ramekins, then layer the stratas with 2 tablespoons of vegetable or fruit filling, sugar, spices, the cheese, and then the egg mixture. 
Gently press down each layer with your fingers.
Get the recipe for Mini Stratas with steps for kids and tons of variations and this recipe for Challah Strata Muffins and get in the kitchen. 
What do you like to cook with your kids for brunch?