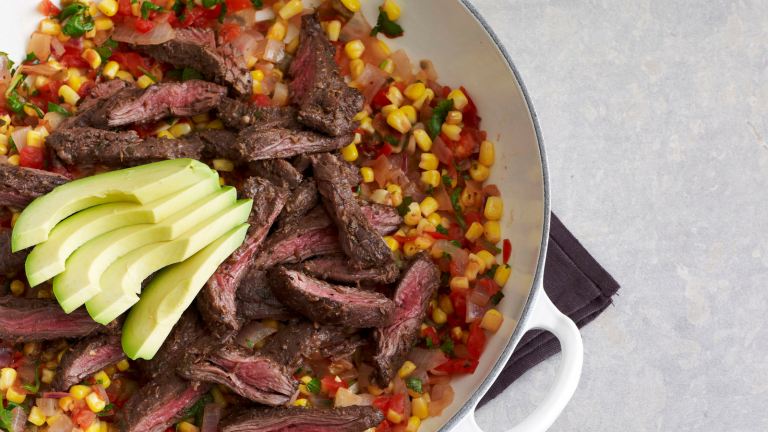 One Skillet Dinners
Cozy, No-Fuss Family Meals… In One Pan!
To me, there's nothing worse than having to wash every pot and pan you own after preparing a terrific meal. Give me a good one pan recipe, and I'm your BFF! 
These five savory recipes were designed to serve four hearty portions using only your average kitchen staple—a 12-inch skillet. 
Now here's my little secret: I am the proud, doting owner of an extra-large 13½- x 3-inch (6-quart) sauté pan. 
This oversized darlin' allows me to double these recipes so I can serve family and guests in half the time. 
Lemon Rosemary Roast Chicken with Potatoes
When it comes to cozy winter dinners, roast chicken works overtime, warming our hearts and our tummies with its traditional and rustic character. A little white wine, rosemary, and lemon, plus a hefty serving of baby potatoes in assorted colors, make this bird a simple, reliable classic.
Baked Eggs with Sausage Sweet Potato Hash
This hearty breakfast can double as dinner—no problem. And looky-here, those sweet potatoes and multicolor peppers make a more colorful and elegant hash than your run-of-the-mill version.
A little south-of-the-border flair for Sunday night dinner.
Italian Style Halibut with Spaghetti and Sage
A piece of fresh halibut is ultra-low in fat (YAY!), doesn't require much seasoning, and bakes up beautifully to an appealing snow white. Not a "fishy" fish, its taste is really clean, and it has a nice, firm texture.  (Did I say YAY?)
Loaded Cheesey Rice with Vegetables
Piping hot rice and beans with veggies and cheese provide an abundance of textures and flavors sure to satisfy everyone on a frosty night.