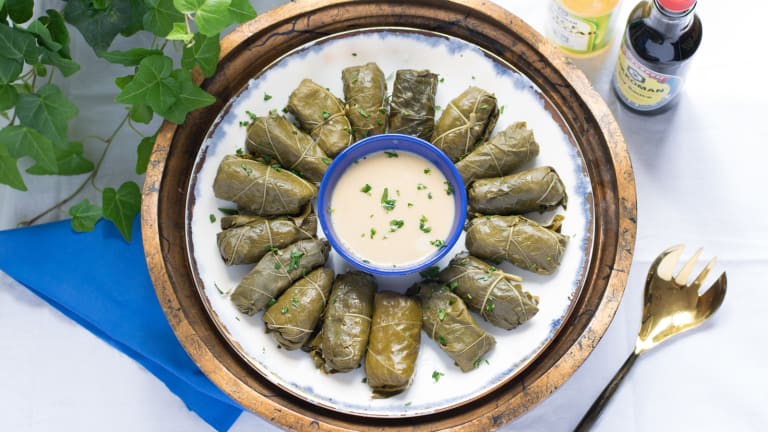 Sushi Rice Stuffed Grape Leaves and Soy Tahini Dip
Stuffed grape leaves are usually cooked with a lemon sauce to go with the Mediterranean flavors they are served with. For our fusion recipe we are making them with rice vinegar to taste more like sushi.
Note: Grape leaves are preserved in a brine which has a strong flavor, so it is best to soak in hot water and rinse before using. 
Duration

Cook Time

Prep Time

25 grape leaves

Servings
Ingredients
¾ cups sushi rice, uncooked
1 cup green onions, chopped, green parts only
1 cup mushrooms, chopped
1 Tablespoon sesame seeds, toasted
1 Tablespoon Kikkoman® Sesame Oil
3 Tablespoons Kikkoman® Rice Vinegar
1 Tablespoon sugar
1 teaspoon salt
20-25 brined grape leaves from one 8-ounce jar, stems cut off if needed
Soy Tahini Dip
½ cup tahini
½ cup water
2 Tablespoons Kikkoman® Soy Sauce
2 Tablespoons Kikkoman® Rice Vinegar
1 Tablespoon maple syrup
1 clove minced garlic
1 teaspoon minced fresh ginger
Preparation
Line bottom of a deep pot with 2 layers of plain grape leaves, covering bottom completely. Make sure to use a pot small enough so that the stuffed grape leaves can cook snuggly next to each other.
In a small bowl, combine rice vinegar, sugar and salt. Stir until salt and sugar are dissolved, set aside.
In a medium bowl, combine rice, green onions, mushrooms, toasted sesame seeds, sesame oil, and 1 tablespoon of vinegar mixture, stir.
Open 1 grape leaf and lay flat, veined side up on counter. If broken or misshapen, patch with 1 additional grape leaf. Place 1 tablespoon of rice filling in the center of the leaf.
Fold stem end of leaf up and over the filling. Fold sides in over filing and roll up tightly. Place seam side down in bottom of the lined pot, fitting snugly together and layering filled leaves as needed.
Pour remaining rice vinegar mixture over grape leaves. Place a plate on top to weigh them down and pour enough water to cover the grape leaves. Bring liquid to a simmer over medium heat and cook for 45 to 55 minutes until filling is tender. Test one grape leaf before removing from heat.
Remove from heat, allow to cool in liquid. Gently remove grape leaves from liquid and place on platter. Cover and chill. Serve with Soy Tahini Dip.
Soy Tahini Dip
In a small bowl, whisk tahini, water, soy sauce, rice vinegar, maple syrup, garlic and ginger until well mixed. Serve alongside Sushi Rice Stuffed Grape Leaves.