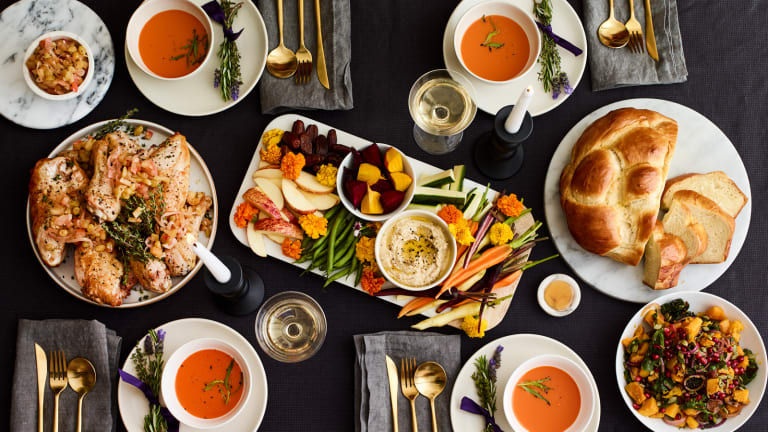 The 6,000 Calorie Shabbat
Dr. Anders Nerman, a Canadian-trained Naturopathic Physician living and practicing in Jerusalem, estimated the average total caloric intake on Shabbat was 6,130 calories!
The combination of Shabbat dinner, kiddush (at synagogue), lunch and third meal over the course of 25 hours, results in about three days' worth of calories for the average woman (or more than 2 days of calories for the average man).
Of course, some of us eat less than the average person on Shabbat (woo-hoo), but that also means some of us eat more (uh-oh).
As a dietitian, mother, wife and sometime enabler (who loves to cook and eat on Shabbat), I don't want to "sugarcoat" the facts.
Shabbat is a beautiful thing, but too much of a beautiful thing, is too much of a beautiful thing.

On a traditional Shabbat the average menu might look a little something like this:
FRIDAY NIGHT
Challah
Chicken Soup (with noodles or matzo balls)
Gefilte Fish
Roast Chicken
Potato Kugel
Salad w/ Dressing
Wine or grape juice
Dessert
Saturday Kiddush
Herring with crackers
Cholent
Kugel
Cookie/Cake
Saturday Lunch
Challah
Fish
Cholent with kishke
Kugel
Chicken
Salad w/ Dressing
Dessert
Wine or grape juice
Third Meal
Challah
Tuna salad
Egg Salad
Fruit
Cookie/Cake
A few extra calories every week, may not sound like much, but it adds up over time. Especially as we get older and our slowing metabolism and more sedentary lifestyle turns those calories into fat that stubbornly rest around our waist and pretty much everywhere else. The longer it stays there the harder it is to lose and the more health problems it can cause.

Carrying excess weight can contribute to Type 2 Diabetes, High Blood Pressure, Heart Disease, Stroke, Cancer, Sleep Apnea, Osteoarthritis, Fatty Liver Disease, Kidney Disease and for expectant mothers, pregnancy problems, such as high blood sugar during pregnancy, high blood pressure, and increased risk for C-section.

I want to tell you that it is very much possible to have a heartfelt Shabbat without risking a heart attack. First, we have to identify the problem. Next, we have to work toward solutions.

The challenge on Shabbat is twofold. One challenge is the sheer amount of food. The number of meals (three or more for many of us), the luxury of time to eat (and eat and eat) and the custom of overdoing it (as if each meal was our last).
Another challenge is that that many of the recipes and favorite foods that have been passed down from generation to generation connects us deeply to our history, but are loaded with excess calories, fat and sugar. Our great-grandparents may have said "pass the schmaltz", we have to learn to say, "I'll pass."
To address the first challenge, I encourage you to rethink what is absolutely necessary to serve at every meal. Focus on quality over quantity, new food experiences that are quick and easy will create excitement and anticipation every week and help make preparation and cleanup easier. You will save time and money and your guests will appreciate being able to walk, rather than roll, home.
Regarding traditional Jewish foods, we know it is hard to live without Bubba's Chicken Soup or Savta's Beef Brisket. This is why we have been developing healthier versions of all your favorite Jewish classics as part of our healthy meal plan, Fresh Families.https://freshfamilies.us/memberships/
We have a whole grain, all-natural Challah that gets rave reviews from die hard chall-addicts. We have a hearty cholent and a sinfully simple potato kugel with half the fat and calories (without sacrificing any of the taste). We have loads of other spectacular Shabbat meal ideas that are fast, family-friendly and healthy.
We love Shabbat and we want to be around to celebrate as many as we possibly can with our family and those we love. It all starts with mindful eating.
And for thousands of happy moms, dads and kids around the world, it starts with Fresh Families.