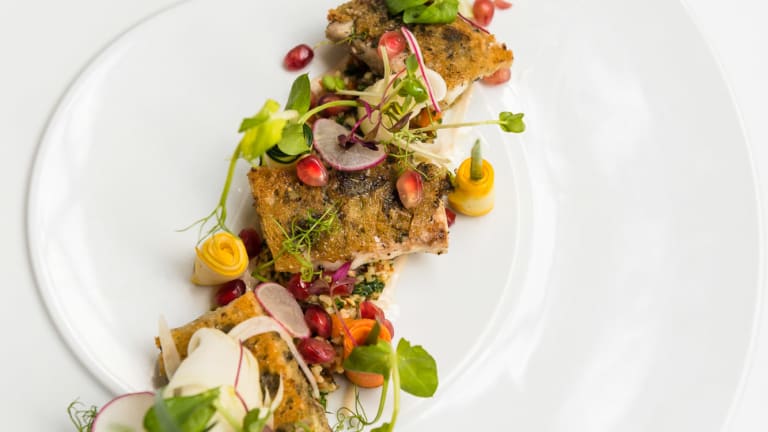 A Taste Of Waldorf In Jerusalem
Last week, Jamie and I had the most delicious taste of a new dish that is destined to be a classic from the Waldorf Astoria Jerusalem. The Waldorf Astoria in New York has been credited with the creation of several iconic dishes, including the Waldorf Salad, Eggs Benedict, and even Red Velvet Cake.
The Waldorf recently teamed up with the James Beard Foundation to pair up and coming chefs with the chefs at five of their best Waldorf hotels. The chefs bring their unique backgrounds and experiences to collaborate to create a single unique dish that will compete to become this year's Waldorf Astoria signature recipe to be served at Waldorf hotels throughout the world.
Since Jamie and I live in Israel, we are especially excited that the Waldorf Jerusalem is counted amongst the top five Waldorf hotels. The Waldorf Astoria Jerusalem is rated the number one hotel in the Middle East (and number seven world wide) according to Conde Nast's Reader's Choice Awards.
For this competition, Executive Chef Itzik Barak, a native born Israeli with global culinary experience was joined by Chef Joseph JJ Johnson from The Cecil restaurant in New York (featured on Forbes list of Most Promising Chefs under the age of 30).
The two chefs spent several days together, eating, drinking, exploring the Jerusalem shuk and, of course, lots of cooking. They decided to highlight Mediterranean fish. After five attempts, they got it just right. Chef JJ loved learning about the seven species of Israel (wheat, barley, grapes, fig, pomegranate, olive oil and honey) and knew that they had to be incorporated into any signature dish. The result is a crispy white fish with smoky eggplant on a bed of bulgur salad and tahini. The dates and pomegranates and tahini really give it a unique Israeli flavor we love.
Best of all, Jamie and I both felt that this dish was approachable and something we can even try to make in our own kitchen.
Many thanks to the Waldorf Astoria for sharing this delicious recipe with all of us, click here to get the recipe for Sea Bream with Bulgur Salad and Tahini.