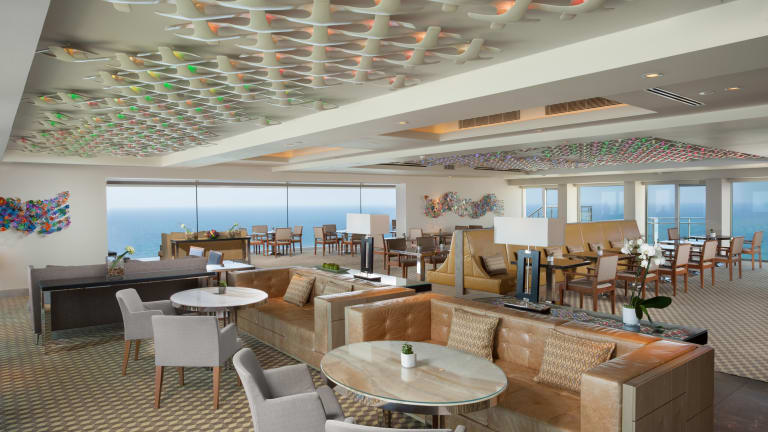 Where to stay in Tel Aviv - How about a boutique hotel within a hotel
Looking for sheer luxury and comfort in Tel Aviv? 
If so, the 167 rooms and suites located on the top floors of THE VISTA AT HILTON TEL AVIV are 'designed' especially for you. Boasting stunning accommodations with panoramic views of the Mediterranean, as well as the personalized service of the Vista Lounge - an exclusive top- floor retreat – where guests can enjoy complimentary breakfast, beverages and snacks throughout the day. 
With an increasing demand for high-end accommodations, "Our Vista," says Hilton Israel Country Director, Ronnie Fortis, "provides the most luxurious choice for travelers." The Vista Lounge has been totally renovated with all of the upscale facilities, "What we are offering today," says Fortis, "is superlative luxury." Vista guests are greeted and checked-in personally in this elegant roof top Vista Lounge. 
This service, available on the top five floors, begins when guests arrive at the Ben Gurion International Airport. A chauffeur-driven limousine may be reserved to collect THE VISTA AT HILTON TEL AVIV guests from the airport, and is the first of many conveniences and luxuries awaiting them at the hotel.
Upon arrival to this luxury hotel, guests are whisked past the reception desk and directed straight to the 17th floor. There they are greeted and checked-in personally by THE VISTA AT HILTON TEL AVIV hostesses in the elegant Vista Lounge. 
The Vista Lounge features floor-to-ceiling glass windows which overlook the Mediterranean Sea and vibrant life of the shore line. Internationally renowned Turkish architect Sinan Kafadar, who was in charge of the interior design, said that his main motto was "In Between". "It was about bringing together the characteristics of the Middle East with immigration from Europe. To me, Israel is a combination of all the cultural and spiritual values brought by the people who have come here," says Sinan.
Also made available at the Vista Lounge are both foreign and local newspapers, magazines and a beverage bar - all free of charge.  Together with the lounge and recently inaugurated renovations to the upper three floors, they offer a fresh and warm design, balanced by rich textures and modern furniture, creating an atmosphere that is both impressive and intimate. These rooms and suites are equipped with new furniture, carpets, curtains and lighting, refreshing wallpaper, working areas and artwork highlighting the beauty of Tel Aviv, the city that never stops. 
According to interior designer Kafadar, the new design reflects the Bauhaus style that was adopted in the 1930s by the city architects. UNESCO declared Tel Aviv a World Heritage Site for its treasure of Bauhaus architecture in 2004. Hilton Israel Country Director, Ronnie Fortis, concludes: "THE VISTA AT HILTON TEL AVIV is allowing "business executives, or returning guests, to enjoy more privacy and personal service in this boutique hotel within a hotel. A Perfect Way to an Ultimate Stay".