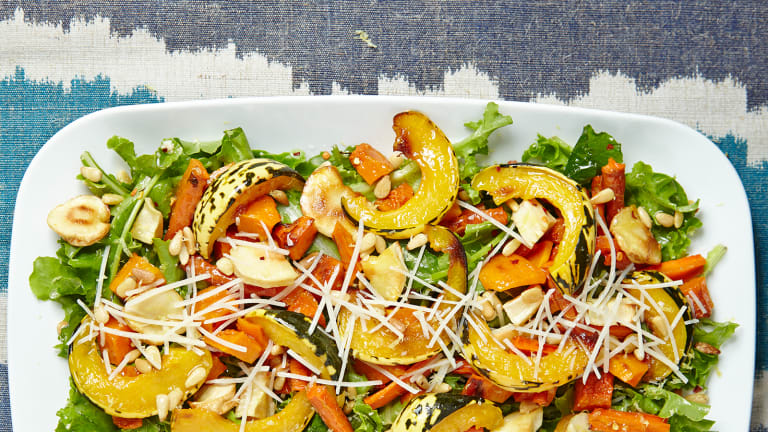 3 Warm Winter Salads: Healthy Comfort Food
If, like my grandfather z"l, I can eat a steaming bowl of soup in the heat of summer, then I can also enjoy a fresh salad in the dead of winter. These warm salads featuring leafy greens, root vegetables, citrus fruits and wheat berries are total tummy warmers.
SWEET POTATO LATKE, ARUGULA, AND BLUE CHEESE SALAD WITH HONEY VINAIGRETTE
This sweet potato latke, baby arugula and blue cheese salad with a honey vinaigrette is a warm, wonderful, winter salad featuring the foods and flavors of the holiday and season.
MORE: Creative Salads You Have to Try
ROASTED ROOT VEGETABLE SALAD WITH LEMON PARMESAN DRESSING
This Roasted Root Vegetable Salad is equally as good with sturdy raw kale or delicate fresh salad greens. The root veg is caramelized and slightly charred and then everything is topped with a bright and bold lemon and Parm dressing.   
MORE: Helpful Hints for Great Salads
WHEAT BERRY AND SOUR CHERRY CITRUS SALAD
A wheat berry (also called hard red winter wheat) is the entire wheat kernel minus the hull, and when milled, produces whole wheat flour. This whole grain (make sure not to buy "pearled"; while quicker to cook, it has been stripped of most of its fiber) has a nutty and chewy texture and is slightly sweet. Wheat berries can be prepared and enjoyed much like faro – my other favorite, considerably more expensive, whole grain. Swap your usual rice salad for this wheat-berry version as a wonderful way to mix up your repertoire.
MORE: 3 Sensational Sushi Salads
Recipes originally published in JOY of KOSHER with Jamie Geller Magazine Winter 2014 Subscribe Now
Want stories like this delivered right to your inbox? Sign up now for our *free* JOY of KOSHER Newsletter.