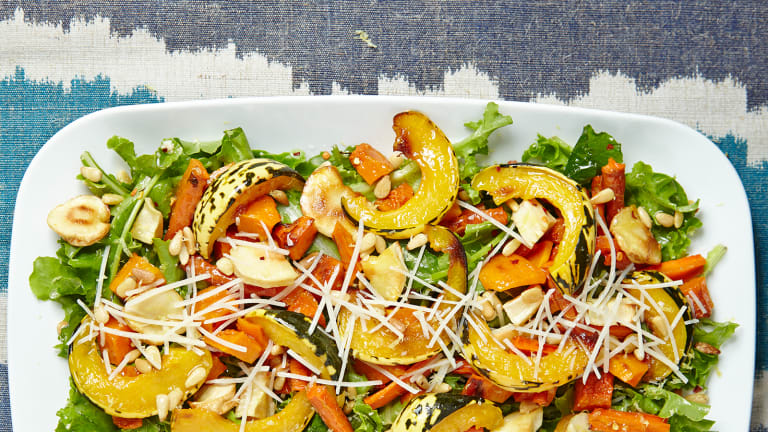 Warm Winter Salads: Healthy Comfort Food
If, like my grandfather z"l, I can eat a steaming bowl of soup in the heat of summer, then I can also enjoy a fresh salad in the dead of winter. These warm salads featuring leafy greens, root vegetables, citrus fruits and wheat berries are total tummy warmers.
SWEET POTATO LATKE, ARUGULA, AND BLUE CHEESE SALAD WITH HONEY VINAIGRETTE
This sweet potato latke, baby arugula and blue cheese salad with a honey vinaigrette is a warm, wonderful, winter salad featuring the foods and flavors of the holiday and season.
MORE: Creative Salads You Have to Try
ROASTED ROOT VEGETABLE SALAD WITH LEMON PARMESAN DRESSING
This Roasted Root Vegetable Salad is equally as good with sturdy raw kale or delicate fresh salad greens. The root veg is caramelized and slightly charred and then everything is topped with a bright and bold lemon and Parm dressing.   
MORE: Helpful Hints for Great Salads
WHEAT BERRY AND SOUR CHERRY CITRUS SALAD
A wheat berry (also called hard red winter wheat) is the entire wheat kernel minus the hull, and when milled, produces whole wheat flour. This whole grain (make sure not to buy "pearled"; while quicker to cook, it has been stripped of most of its fiber) has a nutty and chewy texture and is slightly sweet. Wheat berries can be prepared and enjoyed much like faro – my other favorite, considerably more expensive, whole grain. Swap your usual rice salad for this wheat-berry version as a wonderful way to mix up your repertoire.
MORE: 3 Sensational Sushi Salads
Another great Winter salad comes to us from my friend Shushy Turin. 
Winter is associated with two things: Comfortable food and comfortable clothes.
We're talking bulky sweaters, big warm blankets and big bowls of mac and cheese or soup. When the cold hits all we want is food that warms your body and soul. It's hard to find fresh vegetables that give you that feeling, especially since many of the veggies available aren't in season and may be kind of sad looking. 
Needless to say, a big bowl of veggies isn't exactly what comes to mind in the winter time, but that's about to change.
By utilizing the fruits and vegetables in season during the winter months you're sure to get the biggest of flavors that make you go "MMM good". This salad takes full advantage of citrus fruits, squash and pears, all of which are at their peak during the winter. The quinoa and nuts give you that satisfying carb and protein factors which keep you full and happy. This salad is full of color, life, and flavor plus its good for you, which makes it perfect for keeping that winter body under wraps without comprising on that winter comfort food satisfaction. This salad can be served with the ingredients warm or room temperature. Either way you serve it, it's sure to be enjoyed!
If you're still not sure about Salad in the Winter, let's turn to Chef Laura Frankel. 
Salads refer to a whole category of dishes that most often include raw vegetables, but can also include cold, cooked vegetables, grains and pasta, cold meat or fish, fruit, and even warmed vegetables or meats.
Though the prototypical salad is a light appetizer or side, a dinner salad can serve as a complete meal. Don't miss the dressing, that's what brings the whole salad together. Most commonly dressings are vinaigrettes. Vinaigrettes are an emulsion of oils and vinegar but can be changed up with flavors from herbs and spices.
Salads can be complex and vexing for most chefs who write menus. In America, the salad starts the meal and as a chef, I want my first impression to be a good one. In Europe, a salad ends the meal and the last impression should also be a good one. A salad can be exciting and palate stimulating. I urge all home cooks to rethink their salads. This can be a make-or-break course and can become the course that everyone looks forward to.
6 different types of salads:
Green salads are salads consisting mainly of leaves and vinaigrette.
Vegetable salads are made of vegetables and some or no leaves.
Bound salad consists of ingredients held together by a thick dressing such as aioli (mayonnaise).
Main course salads are also called entrée salads and often include a protein such as beef, fish or chicken and for vegetarians, tofu or seitan.
Fruit salads are made of one or several different fruits.
Dessert salads rarely contain leaves and are often sweet and can contain fruit purees, jellies and whipped cream.
Chef's hint for vinaigrettes:
Salt your vinaigrette before adding the oil. Once the oil has been added, the salt will not dissolve and your salad will not be evenly seasoned.
Try these new salad recipes this Fall and Winter with flavorful salad dressing recipes that will make everyone scream for salad.
14 Salads Perfect for Fall or Winter